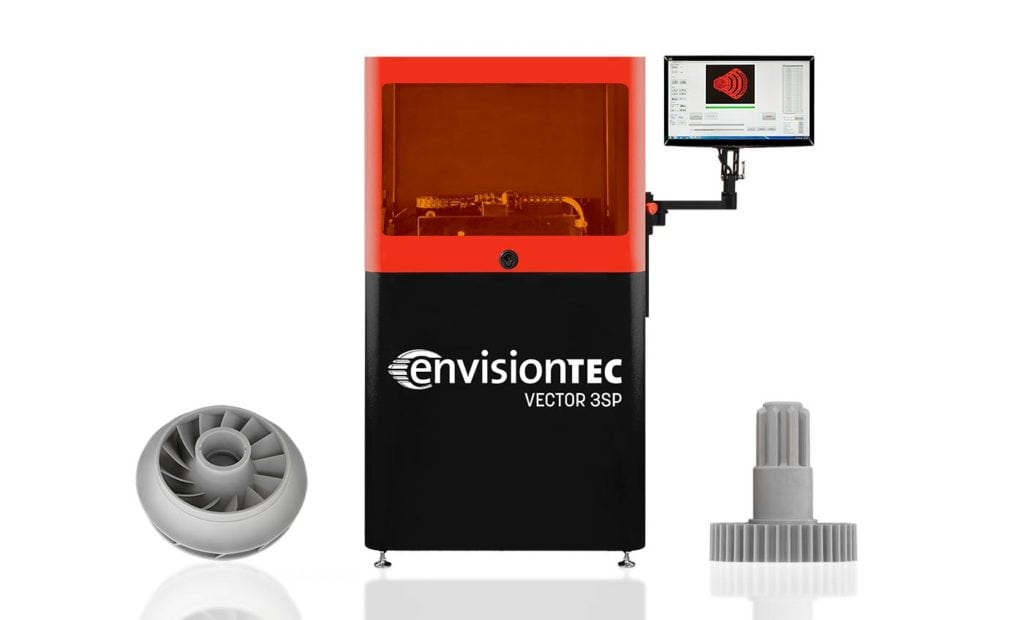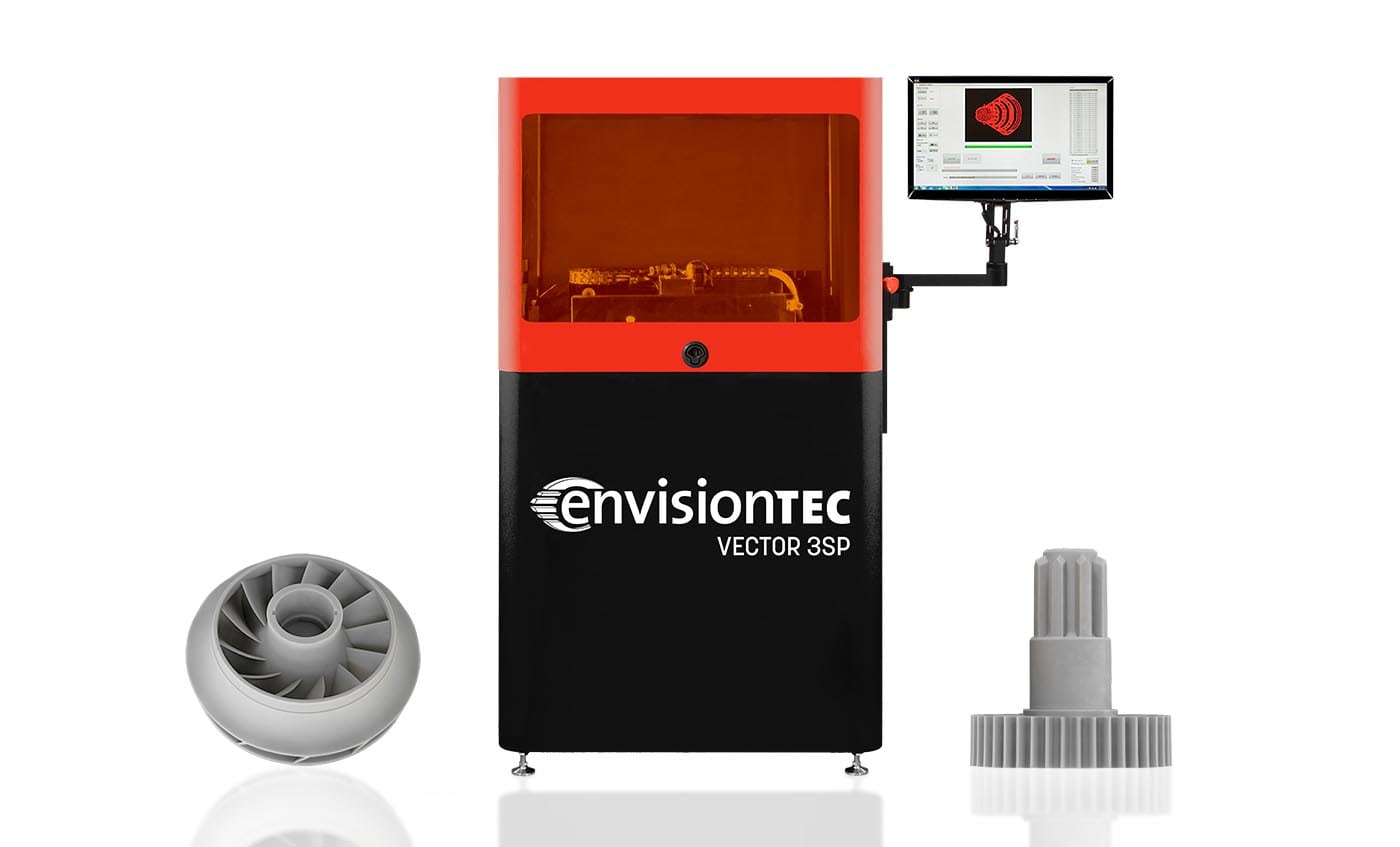 Realize, Inc. has purchased a Vector 3SP printer from EnvisionTEC to beta test new engineering materials under development with Somos
EnvisionTEC's proprietary 3SP technology uses a laser to process photopolymers in a way that is faster and less costly than traditional SLA systems
DEARBORN, Mich., Aug. 23, 2017 — EnvisionTEC today announced that Realize, Inc., one of the nation's largest and most experienced service bureaus for rapid prototyping and low-volume production, has adopted its 3SP technology for 3D printing.
Based in Noblesville, Indiana, Realize has been a leading rapid prototyping company since 1999. The company now owns more than a dozen 3D printers that service a wide range of customers in the automotive, medical, electronics and consumer goods markets.
Realize President Todd Reese said the decision to adopt the Vector 3SP technology to test new materials under development between Somos and EnvisionTEC was an easy one.
"Somos has been our vendor since day one.  We have built a great partnership with their team, so we jumped at the chance to beta test their collaborative efforts with EnvisionTEC," he said. "We've built many different parts on the Vector, from large, chunky parts to small, delicate, detailed parts.  We have been able to pull off a couple of geometries that we struggled with on the SLA technology. There were cases of noticeably better detail, crispness and dimensional accuracy by comparison."
Realize took delivery of its Vector 3SP from EnvisionTEC in the spring. The Vector 3SP offers a build area of 300 x 200 x 275 mm (11.8 x 7.9 x 10.8 in.) with XY resolution of 100 µm (0.004 in.) and it can print a variety of engineering-grade materials, including tooling materials for short-run injection molding.
"Manufacturing customers continue to learn what dental laboratories have known for years now — 3SP technology is fast, reliable and accurate for production 3D printing in a large build envelope," said Peter Denmark, EnvisionTEC's director of manufacturing sales in the America.
Launched in 2013, EnvisionTEC's patented 3SP (Scan, Spin and Selectively Photocure) technology uses a unique process to cure photopolymers in a large vat up to 457 x 457 x 457 mm (18 x 18 x 18 in) in the Xede 3SP model. A multi cavity diode laser is reflected off a mirrored drum housed in a moving gantry that can efficiently scan across a very large vat to cure material. A white paper detailing how 3SP is superior to SLA for manufacturing and production can be found at EnvisionTEC.com/learn3SP.
While EnvisionTEC already offers a wide range of materials with its 3SP technology, the new castable material under development with Somos is slated to be available by year's end.
About EnvisionTEC
EnvisionTEC is a leading global provider of professional-grade 3D printing solutions. Founded in 2002 with its pioneering commercial DLP printing technology, EnvisionTEC now sells more than 40 printer configurations based on six distinct technologies that build objects from digital design files. The company's premium 3D printers serve a variety of medical, professional and industrial markets, and are valued for precision, surface quality, functionality and speed.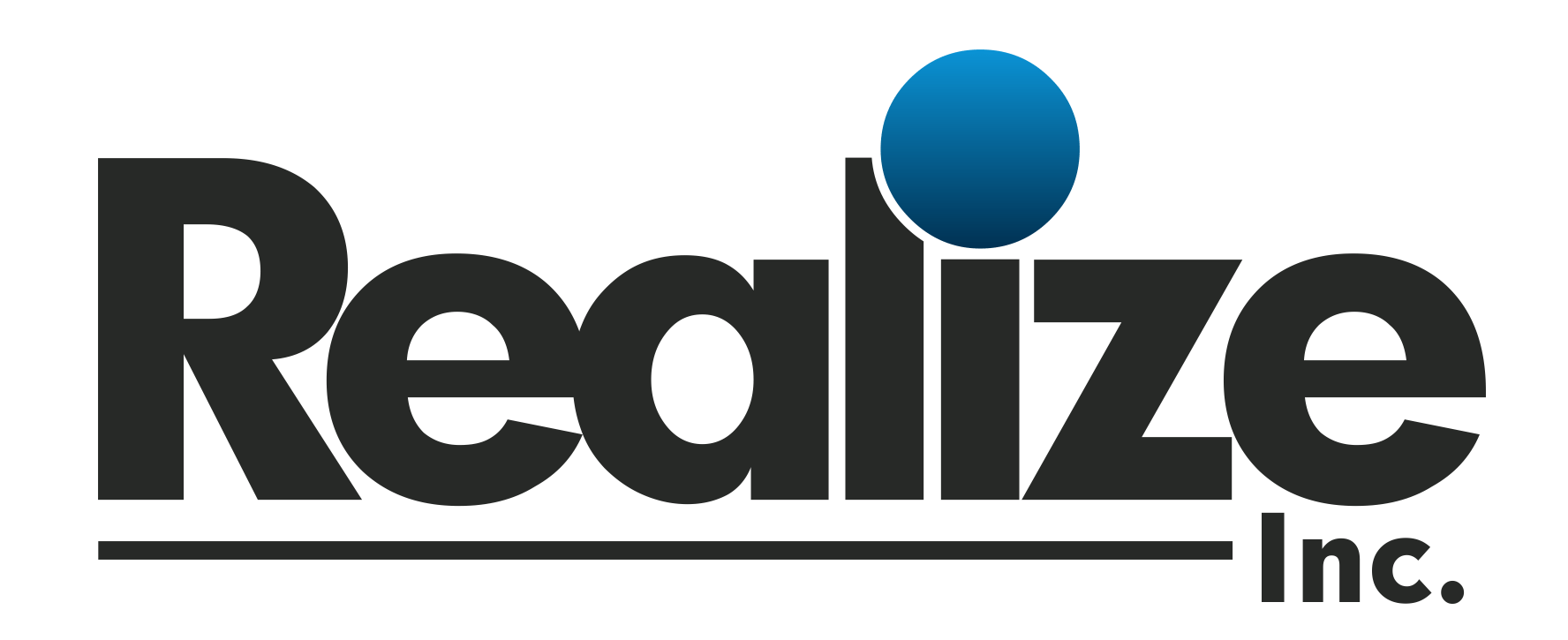 CLICK IMAGE FOR HIGH-RES DOWNLOAD