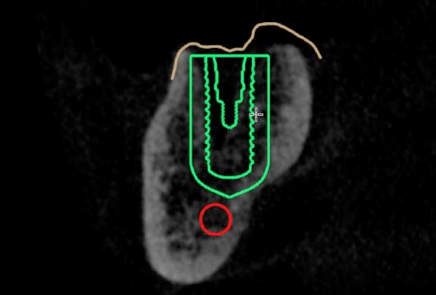 Dental Lab Hits a 3D Printing Triple
Cost control, 30 micron accuracy, and one-day turnaround —
Centric Laboratories in Grand Rapids, Mich., had been serving dentistry with high-end cosmetic and restorative solutions for about 29 years when it decided to make the move to a digital practice, which is helping its business continue to thrive.
"We started moving toward digital about three years ago and haven't looked back," said Stuart Bowman, COO of Centric Laboratories.
After implementing 3Shape dental design software, and scanners for restorative milled work, the company started taking a careful look at 3D printing machinery.
"We looked at the models and copings produced by other labs and the actual technology and were impressed by the additive method and EnvisionTEC's DLP technology," Bowman said. "I also had a recommendation from someone who has used EnvisionTEC machines. That's what brought me to them: the technology and the accuracy. And then, when I looked into the Dental Lab Network, most people talking about getting into the model-printing business said they'd get an EnvisionTEC."
Bowman also liked the fact that EnvisionTEC integrates with one of the world's largest CAD/CAM service providers, 3Shape, and is certified to work with CAMbridge. "It's elegantly simple," he said.
Today, his dental lab has three EnvisionTEC 3D printers – two Micro models and a Vida – that it uses to service a wide variety of its work. "All of our restorations went from labor intensive handwork to doing it digitally," he said. "It's allowed us to control our costs, improve the consistency, our accuracy, and reduce our turnaround time to as little as a day. It's brought lean manufacturing to our operation."
Fast, precise investment castings for crowns, copings, and more
The digital workflow at Centric today is fairly straightforward.
Dentists send Centric an analog impression of the patient's teeth or a digital impression created using the latest intraoral scanners. If it's an analog impression, Centric will use a traditional method by first pouring it in stone. Then, a company technician will scan and digitize a model of the resulting form. From the digitized model, 3Shape's CAD/CAM software is used to design the restoration that will go into the patient's mouth.
The restoration design is exported as an STL file and sent to one of the company's EnvisionTEC Micro machines. The Micro recreates that three-dimensional form in a wax-filled polymer, which Centric will burn out to make the mold for an investment casting. The final casted part could end up being a full contact crown, a coping, the substructure used for PFM (porcelain-fused-to-metal) rebuilds, or a combination. The results are fast and precise.
"We moved into additive manufacturing for printed wax and other materials for all of our e.max and PFM restorations and gold restorations," he said.
Bowman said EnvisionTEC's Press-E-Cast material is one of the few photopolymer-based materials that melts out of the investment during the burnout cycle without leaving any ash. "It also expands very little," he explained, "so we can cast precious and non-precious alloys in roughly two hours without any micro-cracking in the investment.
"We often design a smile makeover for someone who has worn down all their front teeth and use the Micro to print all the individual crowns. We would scan the model, design the crowns, send that to the Micro, and in two hours we'd have the crowns ready to be invested, in which case you'd burn it out and replace it with glass-ceramic.

"To create a PFM we need to build a coping, which is like a thin shell, onto which we'll stack the porcelain. The EnvisionTEC Micro's 30 micron accuracy has allowed us to get super-accurate margins, even down to two tenths of a millimeter, and have it work.
Using the old, manual methods for producing PFMs you can't create the uniform, even thicknesses you need for the ceramic, so you end up having to do a lot of clean up. It's much more time consuming and skill dependent.
"We also use it to print restorations for implants. When a doctor needs to put in an implant we produce custom abutments. We do it in the model as well as digitally. You can measure your occlusion and print it so it's right on, minimizing adjustment. You can predict exactly where the bite will make contact and how heavy that bite will be. So the ceramist who actually shaves the glass need only make minimal adjustments.

"So we use our Micros to build the copings used for PFM, to fabricate full contour crowns for gold restorations, and for all porcelain restorations that are then processed using traditional pressing techniques. The Micro eliminates the high cost and time-consuming labor of waxing. It really streamlines the work.

"You could say the EnvisionTEC has completely redefined all the traditional methods."
Getting into full models with "phenomenal results"
Centric's success with EnvisionTEC's Micro machines, and continuing cost and time pressure, eventually led the company to consider getting its EnvisionTEC Vida, which was released in 2015 specifically to meet the needs of dental professionals. The Vida has a build envelope that is big enough — 5.5" x 3.1" x 3.95" (140 x 79 x 100 mm) — to produce a variety of models, which are used by the lab and dentist to check the bite and crown fit between teeth.
Without that capability, Centric would have to continue sending files to another lab, wait three to four days, and pay $25-$45 per model.
Before making the leap to the Vida, Bowman said he sent STL files to labs using big printers costing $100,000 and labs using the EnvisionTEC Vida and "found no discrepancies between the two." He was also encouraged to get another EnvisionTEC because he has found his machines to be incredibly reliable, with only one day of downtime over the years.
So, Centric traded in one of its three Micro machines for a Vida and took model production in-house.
"The Vida has allowed us to print an accurate 3D model at low cost," Bowman said. "We're printing in 50 micron layers. We're getting phenomenal results."
The price-for-performance was also a key factor for Bowman. "Most model printers today are running $78,000 to $100,000. You have to print a lot of models to justify that expense, whereas the EnvisionTEC allowed us to enter the digital dentistry of printing our own models without the significant capital investment of all the other machines.
"We can make up to three or four quadrant models, or two or three full models (upper & lower) at one time and have them two to three hours later at a fraction of a typical outsourcing fee. It's an extremely viable solution for any small to mid-sized lab looking to get into producing their own models to control their costs and increase their efficiency."
A flexible tool for a fast-changing profession
The Vida was also built for a fast-changing digital dental field, which has given Centric flexibility to remain competitive. Today, for example, some dentists no longer want to use a model. "And we can produce a crown without one," Bowman explained. "But a model allows us to provide confidence to the doctor by demonstrating that the crown will work.
"A dentist's time is extremely valuable, so it makes more sense for us to produce a model and create a crown that they can place in 5 or 10 minutes, scheduling patients every 15 minutes, versus a crown they may have to adjust, taking 15 minutes to a half hour. And since we can now produce a model in a day at low cost, our service is unbeatable."
The Vida also gives Centric the ability to automate surgical guide production used for implants, which many general dentists are now placing as a new source of revenue. The company had been making surgical guides for years, but it was a very labor intensive, time-consuming process. It wasn't a business that the company could grow without adding highly skilled staff – or the right 3D printer.
"A good surgical guide helps dentists have the precision and accuracy to be confident in placing implants on their own, and oral surgeons want them too," Bowman said. "So we saw this as a good market for our expanded additive manufacturing capability.

"Now, to produce a surgical guide, we'll scan the model to create a 3D rendering of the patient's jaw and merge it with a CT scan of the jaw to orient everything in space, including the location of the nerves. Then we'll design and print a guide with sleeves and other features that enable the doctor to drill to precise depths and angles without worrying about hitting a nerve. The guide also gives him the optimal position to place the implant. After the doctor approves the design, actually manufacturing the guide takes just a few hours on the Vida machine.

"It's been a major boost for business. We probably did as many guides in the first two months of this year as we did all of last year. Producing surgical guides has outright exploded for us."
A new future for dental labs
While Bowman believes there will be more consolidation for the dental lab industry in the future, he said digital technology has helped Centric Lab cut costs, be more efficient and meet increasing demands from the marketplace.
"Today everybody's trying to cut costs, to be more efficient. You hear about 'crowns in a day.' Everybody wants it now. By keeping our costs low and quality high while cutting our turnaround time in half, the EnvisionTEC equipment has enabled us to continue to be a thriving resource for our doctors in this environment.

"The digital technology makes you so much more efficient – you can't survive if you don't invest in it. We found that by being strategic with your capital investments, even a small lab can get the benefits of digital manufacturing with current budgets and staff, and do more. It changes the dynamic. Instead of thinking about letting someone go, you think about getting more work."