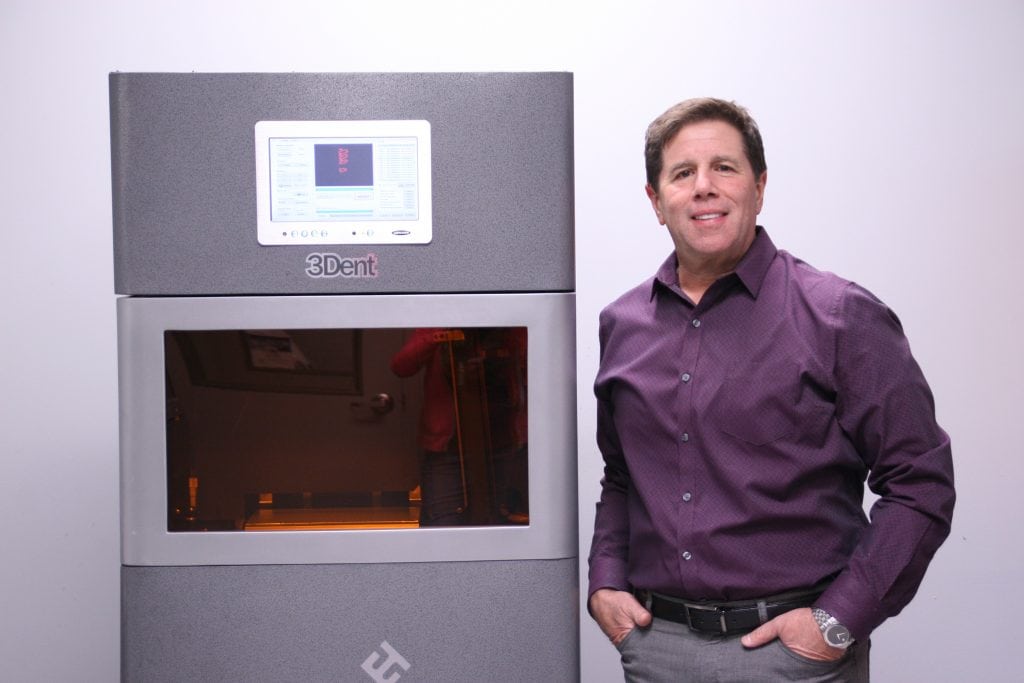 Dental Lab Still Thriving — Thanks to Technology
A variety of EnvisionTEC 3D printers play a crucial role in keeping large dental lab competitive —
Over the years, there have been several pivotal moments when Don Albensi, CEO at Albensi Laboratories in Pittsburgh, thought his business was on the verge of extinction.
A new, disruptive technology would come along and he would think, "Well, that's the end of our business."
The first time he recalled this happening is when multi-axis mills became easy to use for dentists, and he worried many dentists would want to make their own crowns. Of course, it didn't work out that way, with just 7-10% of dentists eventually getting into that area themselves.
"Much to our pleasure and probably their dismay, that really didn't catch on. Doctors really don't like to design and create their own restorations in their office," Albensi said. "It's a lot of work. … And then you get the pleasure of running a lab that you know nothing about."
The other time he thought his business might go bust is when his customers started sending dental lab work overseas to Asia, a little over a decade ago.
"My technicians — I think I had 30 at the time — were very concerned that that was the end, and frankly, I thought it was the end," he said.
But today, his lab has 160 employees, is in the top tier of national dental labs and is seeing annual growth of 30%. Recently, his lab even had to expand into a new building to accommodate all the growth.
Albensi said he turned his fears into growth by aggressively adopting new technologies such as 3D printing. An early adopter of these 3D printing technologies, Albensi got involved with the technology well over a decade ago.
"We learned how to scan and how to design and how to print," he recalled.
Today, Albensi owns a variety of EnvisionTEC 3D printers that are popular with dental customers. That includes three 3Dent machines, a Perfactory 4 DDP and a Vida. He uses his 3Dent machines to print models, the Vida prints surgical guides, and his Perfactory 4 is mostly used to do wax for PFMs.
CAD/CAM technician Chris Bolam said the Perfactory 4, known as the P4, is an exceptional machine. "In my opinion, it' s probably the best single piece of equipment we have in the laboratory," he said.
Albensi added, "We print all of our large bridges with our P4 for pennies. We verify that a bridge will fit with a P4 model before we spend the money in milling the large Zirconia. And, yeah, we throw them away, but it cuts down costs a ton by verifying the fit."
A variety of EnvisionTEC 3D printers play a crucial role in keeping large Pittsburgh dental lab competitive.
Ultimately, the investment in newer technologies such as 3D printing continues to pay off in a variety of ways."I'm seeing more growth in my laboratory because I'm involved with today's technology," said Albensi.
While his business has seen tremendous growth in recent years, he noted that, overall, the productivity of the machines is reducing the number of people needed to do the same amount of work and allowing him to compete effectively with labs overseas, which once seemed so threatening.
In the past, he said, it might take 25 technicians to produce 100 units a day. Today, using 3D printers, he said, "we can use 3-5 people to produce 100 units."
That has changed the type of employee he hires, he noted, pointing to two employees nearby. One was an engineer and the other graduated from the Art Institute of Pittsburgh in Computer Design.
"Now, I do not need that level of skill throughout my laboratory," Albensi said, noting that once processes are well designed, there's just repetition. But you do need people on staff who understand what's going on and can troubleshoot.
These days, there's talk throughout the dental industry that dentists and orthodontists are going to start printing their own models and appliances and take work away from the labs again, but to Albensi, this talk has a familiar ring. Ultimately, he doesn't think most practitioners really want to get into the business of running labs, although the technology will attract some of the most technologically minded into the work of dental labs.
"Not everyone really wants to get into the weeds like that—that will never be a majority," he said, noting that a dental restoration needs to be fabricated extremely accurately to fit properly, and a sophisticated understanding of manufacturing materials is needed.

"It doesn't have to be off by much for a crown not to fit," Albensi explained.
As Albensi increasingly relies on technology – rather than craftsman – to ensure the success of his business, he has learned to be cautious when considering whose technology to buy.
One of the best things about EnvisionTEC printers, according to Albensi and his team, is the lack of post-processing requirements that come with EnvisionTEC 3D printers, as well as the support.
"With other machines, we'd sometimes have to wait 2-3 weeks for a technician. Sometimes, we'd even have to go to a third-party vendor for support," Albensi said. Not so with EnvisionTEC. "Countless times, we've called and have gotten our issue resolved over the phone in 5 minutes," Albensi said. "The service is excellent."