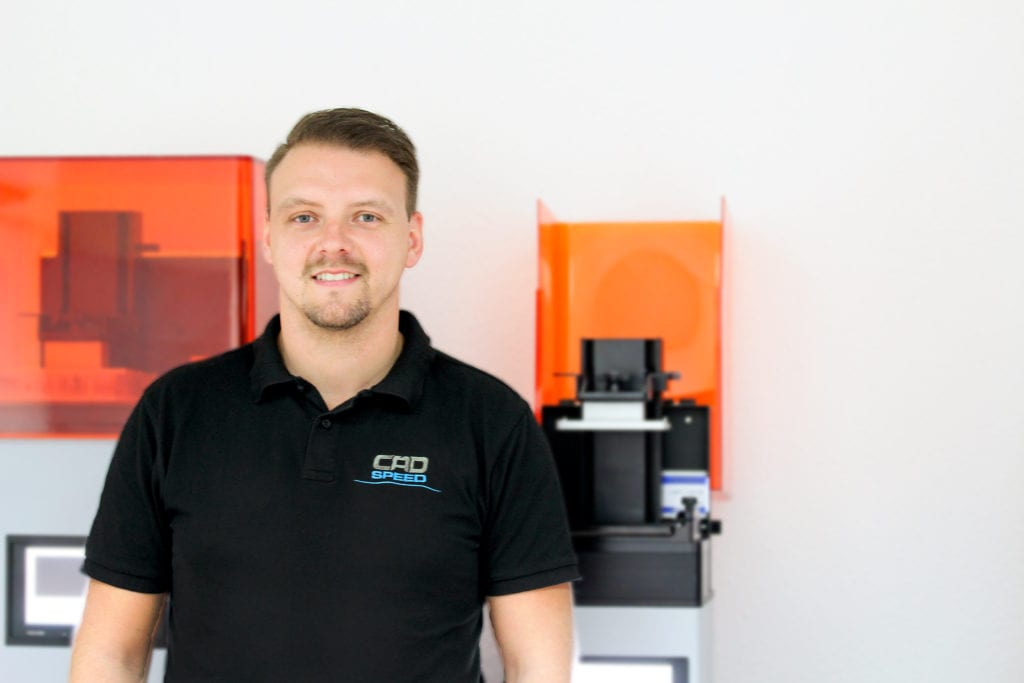 Leading German Dental Manufacturer Chooses EnvisionTEC to Enhance its Offerings
CADSPEED GmbH (CADSPEED) was founded in 2009 in Nienhagen, Germany. CADSPEED is a dental manufacturer that produces appliances through the use of milling and the extensive use of 3D printing technology. With a compliment of 35 staff it is a specialist service provider for the dental market, acting both as an external partner for printing and the conversion of intraoral scans into 3D printed models.
Since 2017 CADSPEED has also operated as an official distributor of EnvisionTEC's range of highly accurate dental focused 3D printing solutions.
Why look at 3D printing?
CADSPEED is constantly growing as a business and adopts those technologies that improve the service they provide to their customers. It aims to be at the forefront of technology within the dental field and sees 3D printing as important in the future of dentistry.
CADSPEED see 3D printing not just as a singular solution for dental but as an extension / supplement to the digital workflow of a modern dental laboratory.
Why EnvisionTEC?
CADSPEED were early adopters of 3D printing having employed the technology in its milling centre since 2011. In 2016 the team knew that to stay competitive they needed to upgrade the printers to provide the quality that customers now expected. They began the hunt for technology that could provide this higher accuracy and integrate with their existing 3Shape ExoCad software.
After examining other products from competitors including 3D Systems and Stratasys, EnvisionTEC won out. CADSPEED settled on three of its desktop DLP based 3D printers, a Perfactory Vida and two Micro Plus XL machines.
In testing the printers provided the highest accuracy and the best surface quality. This resulted in better fitting dental and orthodontic models, flexible gingiva masks, bite splints/night guards, temporaries, indirect bonding trays, direct crowns/bridges and others.
The machines provided superior print speed and flexibility. The range of dental and orthodontic materials available providing the ability to quickly move between applications and model types.
"We are a constantly growing company that wants to shape the future and we clearly see the dental future with 3D printing." - Lucas Göhring, Orthodontic Manager, CADSPEED.
Outcome
As more and more uses are being found for 3D printing within the dental market CADSPEED continues to invest in the technology to keep it ahead of the competition.
The business produces cutting edge appliances for its dental customers across Europe and as EnvisionTEC's range of materials for dental grows, it offers more and more solutions to these customers.
CADSPEED continues to be a leader in the adoption of 3D technology within dental and an educator and innovator in the market place. CADSPEED is helping laboratories and dentists to integrate 3D printing technologies into their businesses to improve efficiency, help them produce better appliances for their patients and improve the service they provide.
"We have seen the growth of 3D and understand that it's the next big innovation. We aim to educate dentists in the adoption of the technology, to improve the patient experience and improve efficiency for their practice. More money, less work. " - Lucas Göhring, Orthodontic Manager, CADSPEED.
For more information on CADSPEED:
Web: https://www.cad-speed.de
Tel: +49 (0)5144 9872 55
Email: info@cad-speed.de