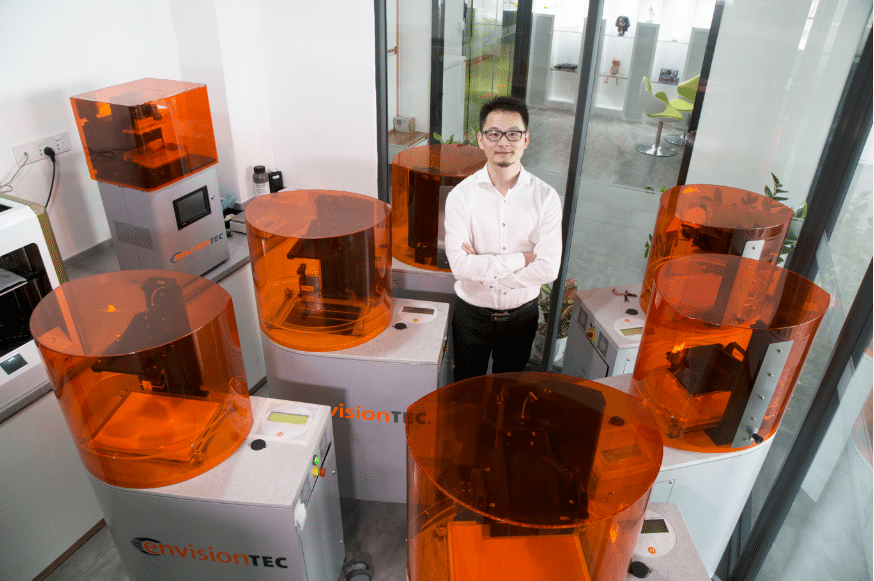 Chinese Custom Headphone Manufacturer Chooses EnvisionTEC for a Superior Fit and Finish
UFOEAR is a high-end headphone brand created by China based DongGuan City Broad 3D Technology Co., Ltd. (Broad Technology) in March 2018.
UFOEAR earphones are 'super reference-class' earphones that are being produced in a limited run of 2000 units world-wide. The headphones are designed to provide extremely rich music detail, high separation of instruments and very realistic reproduction.
The issue with 'in-ear' headphone designs is the tight fit. UFOEAR solves the problems associated with long term wear discomfort through a unique ergonomic design that hooks into the ear perfectly without gripping tightly. Additionally the earphone tube design is slightly upturned to adapt to the ear canal.
Why 3D printing?
The production of custom headphones would normally be a time consuming activity, being produced in multiple pieces, each complex to manufacture. Each part needs to be molded, finished and assembled. Additionally, with custom pieces the molds need to be adjusted for the individual that will be using them.
Having used 3D printing solutions since 2010, Broad Technology knew it was the perfect solution to the issues of producing these pieces. They knew that with 3D printing they could produce the headphones faster, more accurately and more cost effectively than traditional molding and hand finishing techniques.
EnvisionTEC – The solution.
As a distributor of EnvisionTEC 3D printing solutions, Broad Technology knew that the use of the EnvisionTEC 3D printing materials and printers combined with digital design and its own in house production processes would produce the speed, accuracy and quality required.
Broad Technology's in house teams first produce the desired designs digitally before they are produced using both EnvisionTEC Perfactory series printers and audiology focused materials.
The Perfactory 3D printer family provides an affordable, easy to maintain and user-friendly option for manufacturing and prototyping. The machines provide exceptionally smooth and accurate prints with little stair stepping. This results in less finishing of the prints.
Broad Technology uses EnvisonTEC E-Shell series materials in the production of its UFOEAR earphones. The material was developed specifically for the hearing industry. E-Shell is both FDA and CE approved for biocompatibility with skin, it is also meets China's strict material certification standards. E-Shell produces strong, light, tough, water-resistant parts, suitable for the hearing aid and earphone industries.
The use of 3D printing results in a reduction in the time required to produce quality earphone shells, from investigations in house it is estimated it has reduced the time to manufacturer from 130 minutes down to an impressive 60minutes.
The use of 3D printing has also allowed for the production of the extremely complex shapes and designs that would have been difficult to achieve or even impossible using previous manufacturing techniques. Even changes to designs are also fast and simple.
The future.
Together with being an authorized distributor of EnvisionTEC 3D printers and materials, Broad technology acts as a bureau and provides solutions such as design and manufacturing to its customers.
Broad Technology continues to push the boundaries of 3D printing, finding ways in which the technology can be used across different industries to speed up production and improve product design. The business continues to expand and support businesses across China helping them to refine their processes and find the best solutions for their clients.
"We can not only be limited to equipment sales and 3D printing services, but develop more 3D printing applications to help more industries use 3D technology to improve the ability of product development, design and production." – David Ling, Founder, Broad Technology.