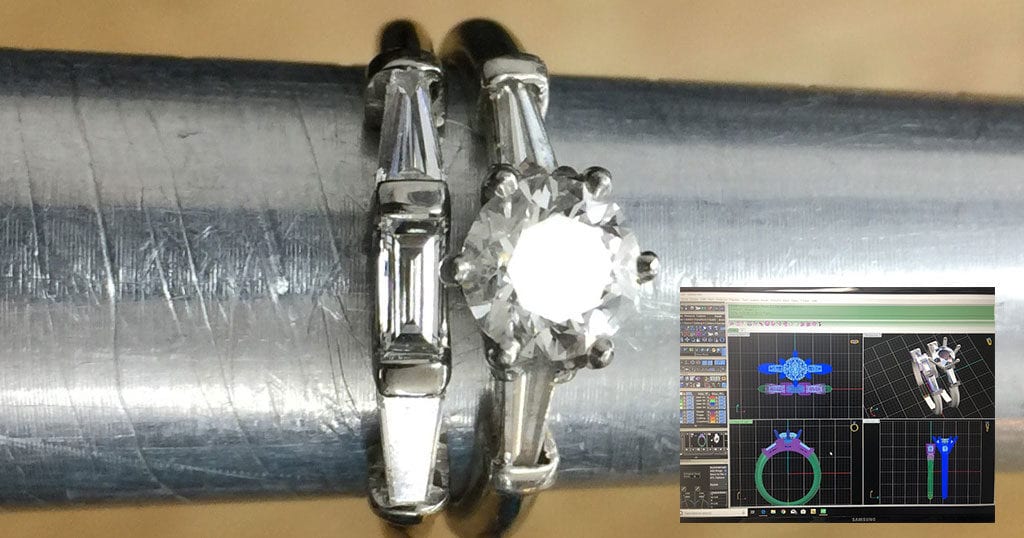 London Jewelry Manufacturer Opts for EnvisionTEC to Improve Speed and Quality
YC LONDON is a family run jewelry business, founded in 2004 by Yianni and Eva Constantinou. Established as a manufacturing jeweller in Hatton Garden, London it was built on strong foundations, as both founders had strong family connections and history in the jewelry industry.
Eva was brought up in the jewelry world with her father starting out in Hatton Garden back in the 1960s, and Yianni had started his apprenticeship at the age of 16, so between them they knew what they were doing.
Since 2004 YC LONDON has grown and now acts both as a manufacturing jeweller and has online and offline retail presence.
Yianni's unique bespoke designs have been sold across the world and have resulted in a cult following. Some of the hand built designs have even found their way into the hands of celebrities, with Rihanna and 50cent sporting the now infamous YC Handcuff. They were also commissioned to make jewelry for both the late Jerry Lewis and Sir Alex Ferguson.
YC LONDON continues to grow and invest, now welcoming young Sol Constantinou, who has now joined the family business as a 4th generation jeweller.
Why 3D Printing?
YC LONDON is a traditional jeweller with a history of making high quality pieces in the traditional way, using hand-carved wax models. These wax models are legendarily hard to manage, with a great deal of skill required to achieve an even close to consistent, symmetrical shape.
Having spent many years working with these techniques, Yianni and Eva saw other jewellers starting to use digital solutions and were amazed at the advantages that they were bringing.
3D printing not only speeds up production, but it also allows jewellers to produce more intricate pieces than ever before, with delicate filigree and fine surface quality that requires less finishing. Tweaks and changes to designs are also much faster, allowing customer ideas to be turned into reality much more accurately and quickly. The use of high wax materials allows for clean casting and the prints are resilient enough for customers to try pieces on prior to them being cast.
We were interested in a 3D printer mainly to speed up our work output. Printing is so much faster than hand production, also the detail available is far greater. The ability to show the customer their piece in a finished print, then be able to change it without wasting too much time or material has also been a godsend. - Eva Constantinou, Founder, YC London

Another advantage of using 3D printing is the fast printing of tough resins for the production of silicon molds. These can then be used time and time again to reproduce designs.
Why EnvisionTEC?
Knowing that the business needed to invest in digital technology to stay competitive, Yianni and Eva scoured the market, looking at a number of brands from around the world. None that they looked at seemed to have local distributors or the comprehensive technical support they wanted. After talking to a couple of colleagues and listening to others in the industry they heard about EnvisionTEC and began to investigate the brand.
YC LONDON contacted distributor GVUK and saw a demonstration of a number of machines including the EnvisionTEC Micro desktop model with Q-View and EC3000 resins.
EnvisionTEC seemed to be the best product by far. The quality of the prints and the resins they have is amazing. Other machines didn't have as high a spec as EnvisionTEC. Also the distributor was local, so the experience was more personal and all the help and advice we needed was right on our doorstep. - Eva Constantinou, Founder, YC London

After seeing the compact Micro series EnvisionTEC printer and the range of materials, they were sold.
We got the EnvisionTEC Perfactory Micro. We mainly need it for bespoke rings and small pendants. It sits in our office and takes up little room. - Eva Constantinou, Founder, YC London

The 3D printer works seamlessly with the Gemvision Matrix software that was also supplied by the local distributor GVUK. The printer and software combination allows YC London to quickly print demonstration pieces for customers, and final models in EC3000 for casting.
The 3D Printer has been amazing. We can finish a ring and print it out in the Q-View resin in around an hour and the customer can try it on and see how it looks without major cost or hassle. The customers love this technology. - Eva Constantinou, Founder, YC London

Ongoing, as the business expands, and further production capacity is required, the team aim to invest in a bigger printer. Though there are other brands in the market, the intention is to remain with EnvisionTEC due to the quality of the prints, the resins available and the support from the distribution partner.
We'd like to purchase a larger EnvisionTEC machine for some of our bigger projects, it would be good to be able to print large pendants, bangles and so on. The product is remarkable. I would always look at EnvisionTEC first for any future equipment as my printer has been extremely reliable. - Eva Constantinou, Founder, YC London

Partners
Special thanks to UK distribution partner GVUK and thank you to Eva Constantinou for her extensive support in the making of this case study.
For more information on YC London and its services visit:
YC LONDON LTD
Unit 1152
Whitgift Centre
Croydon
CR0 1XB
Tel: 0208 681 0646
Web: www.yclondon.co.uk