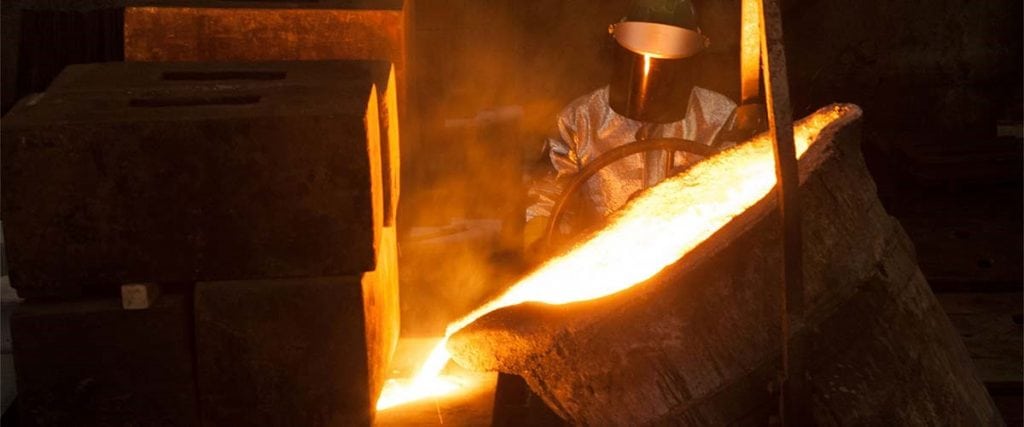 A Once-in-a-Millennium Revolution in Metal Casting: Robotic 3D Printing
Hazleton Casting Company in Eastern Pennsylvania can now offer fast-turnaround castings without expensive hard tooling to its specialty equipment manufacturers
Revolutionizing a manufacturing process that has been around for more than 5,000 years isn't done overnight, but that is precisely what is happening in the metal casting industry today with 3D printing technology.
Casting is one of the oldest manufacturing process known to man; a liquid material is poured into a mold and allowed to solidify. While there have been incremental improvements in the process over the years, it safe to say that metal casting hasn't exactly been a hotbed of change.
But in recent years, with the advent of 3D printing processes for sand molds and cores for foundries, all that is changing — allowing foundries to do in hours what once took weeks to months, eliminating a variety of costs along with the time.
Take Hazleton Casting Co. in Hazleton, Pa., which today uses a 3D printing system from Viridis3D.
"Our journey into additive manufacturing started about three years ago," explained Tony Badamo, President of Hazleton Casting Co. and Weatherly Casting and Machine Company.
The decades-old sister companies, located about nine miles apart in Eastern Pennsylvania, each offers slightly different casting services. Together, they are a one-stop, full-service foundry  offering a variety ferrous and non-ferrour specialty alloys including abrasion resistant alloys that can deliver castings exceeding 700 Brinell hardness.
When it comes to 3D printing, at first, Badamo explained, the company was intrigued by what the new technologies could do in terms of toolmaking, "to augment our pattern-making capabilities."
So the company began looking at vat polymerization machines and 3D printers that directly print metal.
Initially, Badamo said, the direct-metal technology caused some anxiety — "We thought, 'That's a real  significant change to the foundry industry.' " But after assessing the situation, the team realized those processes "were a good pace away from being mainstream."
From there, attention quickly shifted to new processes that were coming online to 3D print sand molds and cores with binder jetting technology, which could greatly reduce the need for hard tooling, which can take months to be machined, at significant cost, in order to deliver a prototype or final part to a customer.
Soon, Hazleton began outsourcing some of its business to do sand molds and cores to 3D printing bureaus, which could deliver them relatively quickly with machines that routinely retailed for more than $1 million and have a lot of specific environmental requirements.
While the quality of the parts wasn't always as good as desired, Badamo said the process was good enough that the company knew it had to keep a close eye on the 3D printing market.
 "We felt the printing should be in our hands," Badamo explained, largely because of the foundry team's familiarity with customer demands.
At the time, however, the 3D printing machines for sand molds and cores were too expensive for their market to justify the return on investment, and they often had too many environmental requirements for a foundry, which — far from a clean room — is a truly industrial environment.
Then, in 2016, Badamo was invited to an open house to see a new kind of technology to 3D print sand molds and cores from Viridid3D in partnership with Palmer Manufacturing & Supply, Inc. in Springfield, Ohio.
Introducing Viridis3D Robotic Additive Manufacturing
Unlike traditional binder jetting systems that are contained within a machine, the RAM 123 from Viridis3D was a remarkably simple system: it uses a large 28-inch wide print head on the end of a standard ABB industrial robot, an IRB 260, and it prints the sand mold and cores directly on a work table in an open work space.
Using a traditional CAD file as its guide, the robot arm works using a traditional Cartesian axis movement and can, essentially, build as far as it can reach. The system currently can build parts up to 1' x 2' x 3' — the "123" in the robotic additive manufacturing name.
The system works by filling an open tray on the back side of the print head assembly with sand, which has been premixed with a catalyst, from a hopper delivery system. The robot positions the print head over the table, drops sand and spreads it with a single pass, printing a Furan binder jetting fluid precisely where binding between the sand particles should occur.
When setting up for the next pass, the robot rises in height by the desired layer thickness for the next layer, repeating the process layer by layer until the final form of the object is complete
The system is relatively fast, printing about 1.5 to 2.5 vertical inches per hour, with accuracy +/- 0.010". A wide range of base sands are available, from Silica and GFN Oklahoma to Wedron, and are sold for the system premixed with a dry acid-based catalyst.
After the print is complete, the system cures in place for about an hour and can be casted.
Badamo was struck by the simplicity, non-fussy nature of the system. It seemed easy, and importantly for Badamo, it was about one-third of the cost of competing systems from companies such as ExOne.
He could also see that it would be scalable to larger print jobs with a bigger robot in the future as the technology advanced, and that Viridis3D, which is based in Woburn, Mass., was also owned by EnvisionTEC, a global 3D printer manufacturer that was committed to ongoing R&D.
On the way home from the demonstration at Trident Alloys in Springfield, Mass., a jobbing foundry that has been using the first Viridis3D system ever sold, he joked to a colleague: "I told her that she was lucky she didn't send me with a checkbook."
In December 2016, the Viridis3D RAM 123 was installed at Hazleton Casting Co. and was put to work straight away printing a mold for a commercial customer.

An Easy Decision for the Future
Without a lot of fanfare, Badamo purchased a RAM 123 system from Viridis3D in September 2016.
The system was installed by Howard Rhett, head of technical applications at Viridis3D, in December 2016.
Then, without much testing or planning, the company's first print job off the system was for a commercial client.
"We had a project with a pump company," Badamo said. "There was a part that needed to be made and it was actually a very small quantity of five pieces. It gave us the opportunity to play with the new machine. So the first parts that came off the machine were sold."

Since then, "almost everything we've run off that machine has been a commercial product."
Badamo said the integration into the company's operations, officially called the Hazleton Casting Center for Additive Manufacturing (HCC-AM) has been simple, just the way foundries like his like it.
 "We're very satisfied with it," Badamo said. "It's producing surface finish with at least the same quality as with normal product with no degradation of surface quality, slightly better."
What's more, the system also offers an affordable way to get to near-net shape for manufacturers who may want to use subtractive methods, too.
Multiple New Opportunities on the Horizon
While the RAM 123 has been use for just about three months, Badamo said the possibilities the machine offers for new business and a new way of doing things are truly exciting within the traditional casting industry.
"It's already created new work for us, allowed us to get in on new opportunities," he said.
For example, one job that was previously fabricated from a bent form and welded plate can now be cast for added strength because of the open-ended design options presented with the new Viridis3D printer.
"In making it a casting, we can put metal where they need it," Badamo explained. "We can replicate whatever shape they can draw. It opens up a lot of opportunities to make designs  strong where they need to be strong and light where they need to be light."

Ultimately, the new 3D printing system is a game-changer for the company. "It's a force multiplier," Badamo explained. "As an engineer and somebody who advocates change, I'm excited to have it here. It's exciting to see guys embrace it because of what it offers them."