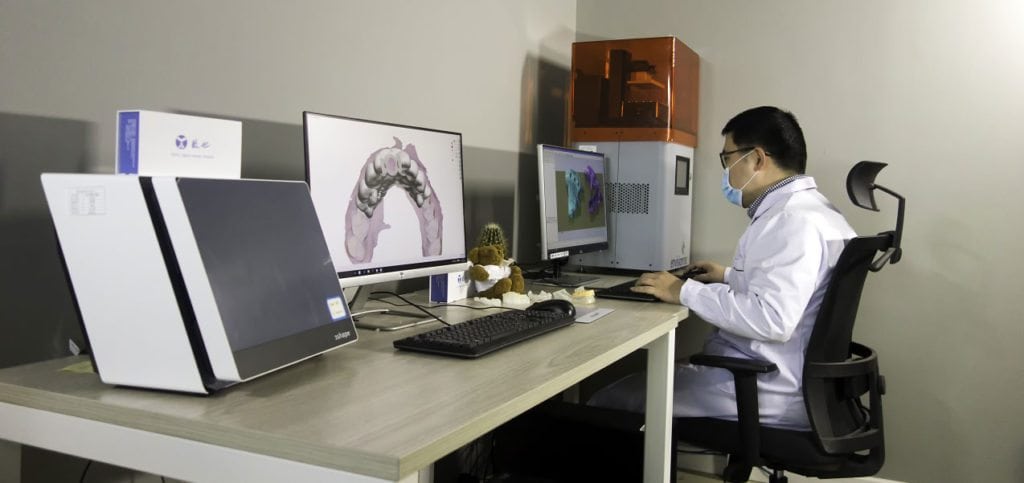 China Based Dental Manufacturer Chooses EnvisionTEC
Established in March 2016, Hangzhou Soye Digital Medical Technology Co. Ltd. (Hangzhou Soye ) is a China based manufacturer of dental appliances. The business supports dentists and dental surgeons across China, providing accurate and efficient digital technology and services. Hangzhou Soye designs bespoke surgical guides, dental models and implants based upon the specific conditions and requirements of the patient.
Customer Service in a competitive market –
The Problem
 
With a long history in the dental industry, the Hangzhou Soye team had seen first-hand the increasingly important role that 3D printing was making. Suppliers in the dental industry, whether manufacturing dentures, surgical guides or orthodontic appliances were embracing 3D printing to provide exceptional quality, with fast turnaround at a lower cost.
The Hangzhou Soye team knew that to stay ahead of the competition and provide their clients with the best surgical guides and appliances with the highest quality finish, they needed to invest in the best machines and materials in the market.  So with this aim, and no prior technology in place they set out to find a suitable machine and compatible materials. They looked at a number of companies in the industry before they settled on EnvisionTEC's 3D printing solutions.
The Solution
In 2016 the team purchased a Vida 3D printer through the EnvisionTEC China division. The choice was made based on EnvisionTEC's experience and abilities in dental, and the overall package of printers and materials.
"Within a market containing a number of printers which claim to be 'dental focused', EnvisionTEC's Vida is one of best 3D printers for the dental industry. "
EnvisionTEC's range of materials available for the dental industry was a contributing factor.
"Another reason we chose the EnvisionTEC printer was its range of materials. The Clear Guide material, which we predominantly use is already CE certified for use in the mouth and there are many others to choose from which are both FDA and CE approved. Better still we can quickly switch between these materials in the printer."
Also, the 3D printer was cost effective compared to the other options and large scale 'industrial' equivalents.
"Vida is a desktop printer, but has the same accuracy as Industrial-grade 3D printers. The Vida is a much better option and saves us tens of thousands of dollars."
Moving Forward
The Hangzhou Soye team is already seeing the benefits of their investment in the Vida 3D printer and their clients are recognizing the accuracy of the results. Currently, Hangzhou Soye is reaping a return on their investment in terms of cost and time savings compared to traditional methods.
The Vida has been easy to use, reliable and has resulted in less requirement to manually finish parts.
Why should dental manufacturers choose EnvisionTEC?
Not all forms of 3D printing are created equal and EnvisionTEC's DLP and 3SP technologies are the best in the market. With exclusive technology EnvisionTEC provides dental businesses and their customers with a superior printing experience.
Download EnvisionTEC's latest white paper available here which outlines why EnvisionTEC DLP printers are twice as good as the competition when using the same HD projectors. Read about the superior quality of outputs and how patent-protected processes deliver fast, smooth and accurate builds, with accuracy down to 10 microns.
If you would like more information on EnvisionTEC's range of 3D printers and materials get in touch using the form below: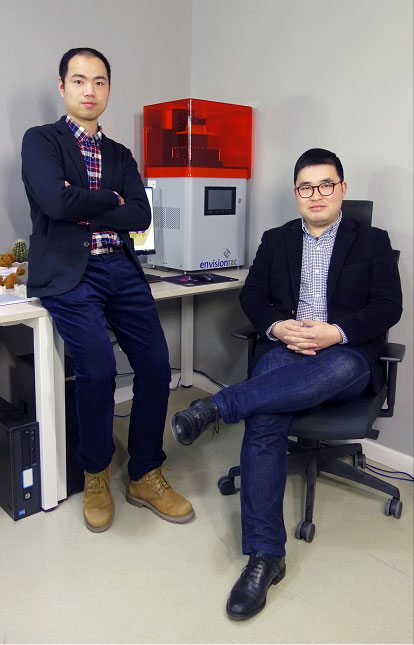 "Having looked a number of printers we chose the EnvisionTEC Vida printer based on it's accuracy. Nothing can match it in the market."