StarkStrom Augsburg eV is a non-profit association for the promotion of student research around the subject of electromobility. The association was established in 2011 and each year assembles a team of up to 100 students from all faculties of Augsburg University of Applied Sciences to build electric racing cars that compete in Formula Student Germany, an international design competition (https://www.formulastudent.de).
The aim is to expose students to complex projects and give them the opportunity to distinguish themselves in the areas of design and production, together with gaining practical experience to aid their studies and future careers. The team even competes in the driverless car series.
In 2017 the team approached EnvisionTEC's distributor Dreigeist about the potential for team sponsorship. As automotive is an area of speciality for EnvisionTEC it both supported the team as a Silver sponsor and helped in the production of critical parts for the car.
"Huge thanks to the EnvisionTEC team for their support. Their engineering experience coupled with the 3D printers and automotive focused materials were essential to the performance of the car"
– Lukas Dehlinger, Mentor Drivetrain, StarkStrom Augsburg eV
The Solution
The car produced by StarkStrom Augsburg eV has 4 wheel drive with motors on each wheel. These motors are 12.3kw each and produce 80PS and 287Nm per wheel. This allows the cars to accelerate From 0-100 km/h in 2.7 seconds. The problem the team was encountering was the cooling of these motors for the duration of races. Overheating of the components risked reduced performance or even component failure.
The team needed sealed water jackets that would allow for high pressure coolant to be circulated around the motors to carry away the excess heat. These would need to be efficient, ensuring the maximum flow of water and robust to withstand the rigours of motor racing. The solution came in the form of a series of 3D printed parts from EnvisionTEC. The business both supplied engineering support and offered to produce the components they needed. These components were printed on an EnvisionTEC Perfactory 4 Standard XL at a resolution of 50µm. Each Piece taking 17 hours.
Surface finish of the components was an essential consideration, with any imperfections resulting in reduced water flow and efficiency. The EnvisionTEC professional grade 3D printer's 50µm resolution and HTM 140 V2 material allowed for extremely accurate reproduction of the CAD designs, and importantly an extremely smooth surface on the inside of the jacket maximising the flow of coolant to and from the motors.
About the Competition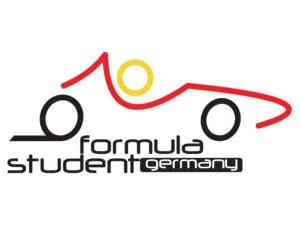 Formula Student Germany challenges students to build a single seat formula race car with which they compete against teams from across the world. The competition is not won solely by the team with the fastest car, but rather by the team with the best overall package of construction, performance, financials and sales planning.
"The parts produced were both strong enough for racing and hardy enough to withstand the high motor and water temperatures. The jackets allowed for the efficient cooling of motors that in turn allowed us to run harder. The cooling also helped to preserve the motors"
– Lukas Dehlinger