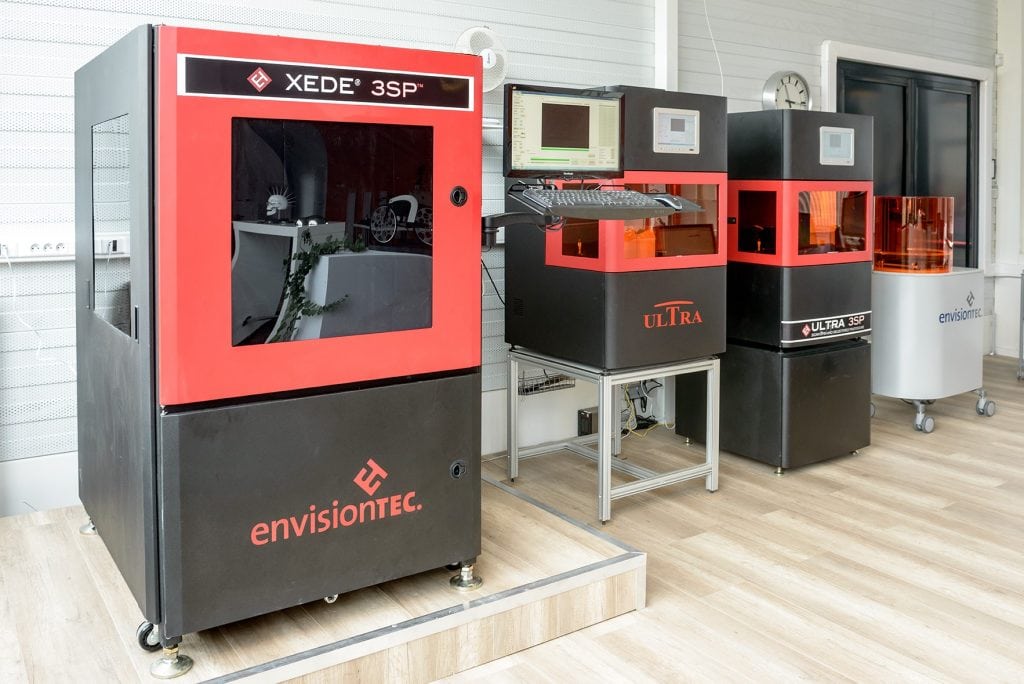 Precision 3D Printing, Exquisite Finishing Capabilities Sets Service Bureau Apart
Based in the creative hotspot of C-Mine in Genk, Belgium, Tenco DDM is an innovative company offering an advanced and holistic range of services to a broad range of clients across the Benelux region.
Central to Tenco DDM's offering is its extensive knowledge and expertise of industrial 3D printing technologies.
Tenco DDM operates a range of industrial plastic 3D printing equipment — from EnvisionTEC and EOS —  but the company's success comes from understanding that this technology does not thrive in isolation. As a result, Tenco DDM has built up an advanced ecosystem of technology around the 3D printers, which together with profound experience of post-processing and finishing techniques, allows the company to maximize the potential of 3D printing and support its clients in the production of precision models, prototypes, tools and, increasingly, end-use parts.
Tom Castermans is the founder and CEO of Tenco DDM. He set the company up in 2012 and utilized his experience of working with technical coatings for plastic products to immediately set Tenco DDM apart in the service bureau sector, which included testing parts 3D printed with transparent materials and making them UV stable.
Precision is a core competency at Tenco DDM, and for this reason the company has increased its investment in EnvisionTEC equipment since 2012 and today runs three EnvisionTEC platforms  — an Ultra and two 4th generation Perfactory systems (a mini XL and a standard XL). The latest P4 was installed just a month ago.
Across the three machines, the Tenco team runs 19 different materials which accommodates a wide range of mechanical and functional prototypes, tools and parts. Again, this is a key differentiator for Tenco, because many individual service bureaus tend to only focus on one or two materials. By offering experience with a much broader material palette, including high temperature resins, ceramic-filled resins as well as soft and biocompatible materials Tenco DDM is able to support clients with significantly more applications and meet their needs across many industrial sectors.
"The DLP process achieves the highest possible precision parts with the accuracy demanded for our clients' applications," Castermans said. "We mainly focus on high end prototypes and small series production parts, supported by high end finishing capabilities, and the EnvisionTEC platforms facilitate this."
Castermans quotes the percentage of work currently being undertaken by Tenco DDM to be 75% prototyping, 15-20% tooling and 5-10% final use parts in terms of revenues. However, Castermans does qualify that if you use volume of parts as a metric, then the tooling versus manufacturing of final use parts switches positions.
The implication of this is very interesting to consider, particularly when Castermans further explains "We see the interest in industrial 3D printing as a final production method increasing over time, and this is the direction that we want to take the business in. But people need to be convinced and that is part of our job."
Tenco DDM's expertise is particularly brought to bear on applications that demand exquisite accuracy for small and micro (sub 10 mm) precision parts. This specialization aligns with the increasing focus at Tenco DDM on 3D printing as a production method for small to medium volumes and demonstrates the key advantages of 3D printing for fast iterations and the elimination of tooling for low/medium volume production runs.
Tenco DDM was the contract manufacturer for the new Loop hearing care product released recently.  After supporting the start-up company through product development and prototyping iterations, an initial order for 1000 production parts has been delivered, with further plans for 4000 more in the next 12 months, increasing to 10,000 thereafter. To provide context 1000 of the Loop products are produced across 25 separate builds on the EnvisionTEC Perfactory platform, running EnvisionTEC's proprietary E-Shell material.
Tenco DDM also supports its additive manufacturing activities with a wide range of complementary technologies, including CNC milling and a dedicated finishing department. The latter of these includes many traditional methods such as tumbling, sand blasting, spray booths etc, but also, due to Castermans background in technical coatings, sophisticated technologies for applying chrome and precise mirror coatings.
Castermans also cited another application that demonstrates the advantages of Tenco DDM's precision approach with EnvisionTEC platforms and meticulous finishing capabilities, namely for BioRacer. This company has developed a bike fitting system and offers customized attire for professional push-bike riders.
To achieve this BioRacer fixes 22 sensors on the bikers bodies to monitor them as they ride from multiple cameras situated at different angles in order to capture shape and movement data, which can subsequently be used to optimize performance. Tenco DDM supported BioRacer in the development and production of the hardware for the system, including the sensor casings, the lenses, and the LED holders. The optical components were 3D printed on the EnvisionTEC Perfactory systems and precision finished to the highest standards for maximum light guidance.
It is this holistic approach together with precision equipment and expert knowledge that has Tenco DDM continuing its upwards trajectory.