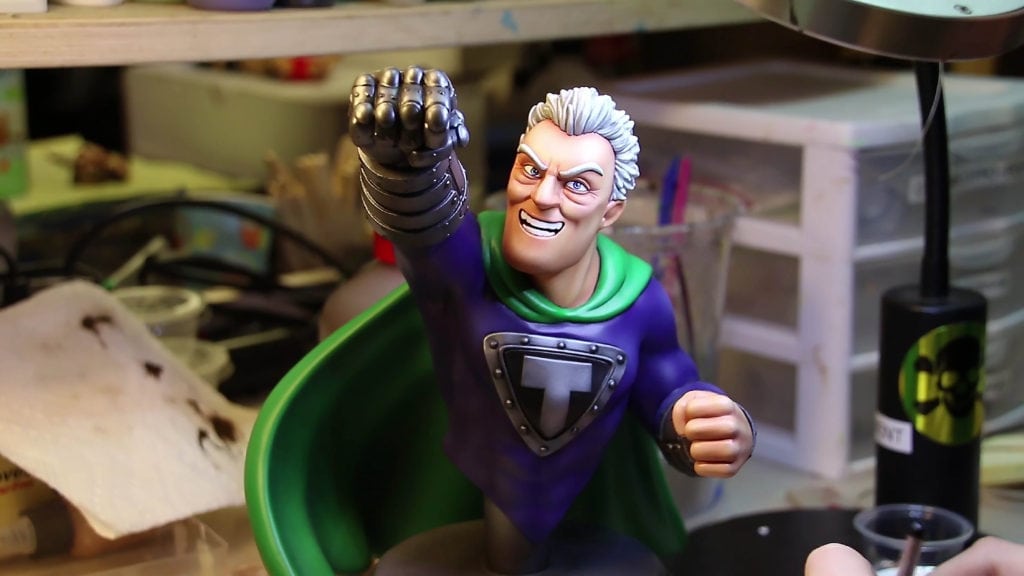 VIDEO: Stoopid Buddy Stoodios Delivers 3D Printed Comedy in SuperMansion Season 3
While 3D printing is capturing the public's attention in recent Hollywood movies, such as "Ocean's 8" and "Hotel Artemis," the technology is breaking new ground in the stop-motion animated comedy "SuperMansion."
That's because the majority of the series' characters were produced by Stoopid Buddy Stoodios on a 3D printer — specifically premium Perfactory 3D printing technology from Detroit-based EnvisionTEC.
Hollywood studios have used 3D printers for more than a decade to create props, animated characters and more for films, movies and commercials. But to meet the budget, deadlines and quality requirements for the popular "SuperMansion," Stoopid Buddy Stoodios used 3D printing to dial it up a notch.
"We have 3D printed a large majority of the show," said Kei Chong, the head of the Digital Design Department at Stoopid Buddy. "Pretty much most of what you see on a lot of the human characters is 3D printed — except for the fabric."
Season 3 of SuperMansion launched last month on Sony Crackle, and on Aug. 16, Sony is also slated to debut "SuperMansion: Summer Vacation Special."
Stoopid Buddy Stoodios is a full-service production company based in Burbank, Calif., that specializes in producing and developing stop-motion, computer generated (CG), and 2D animated content for television, film, and the web. In addition to "SuperMansion", the Stoodio is home to other productions that also benefit from 3D printing:
• "Robot Chicken", the longest-running stop-motion show on television,
• "Buddy Thunderstruck," a kids' series on Netflix,
• "The Grand Slams" web series for Denny's, the family restaurant chain,
The Stoodio sports some of the finest talents in animation, alongside state-of-the-art facilities and technology that ensures quality in everything the company produces. That, of course, includes its 3D printing technology from EnvisionTEC.
"Within the last three years, we've incorporated 3D printing into the fabrication pipeline," Chong explained. "The EnvisionTEC printer has been great for us because we can make aesthetic changes much faster than had we hand sculpted them. That's one less step that a fabricator would have to take on."
"With 3D printing, we're able to save a lot of time," added Rob Ronning, a character fabricator at the Stoodio. "Even loving the old-school technique as much as I do, I would definitely say a show on the scale of SuperMansion would not have been able to be done with the budget and timelines without 3D printing."
But time isn't the only consideration for using a 3D printer. The Stoodio also needed a 3D printer that produces outstanding surface finish and detail, which is vital to the stop-motion art form.
The Stoodio's Perfactory 4 DSP XL from EnvisionTEC delivers amazing surface finish and XY accuracy of 50 microns, which ensures interchangeable character hands and features fit on the small parts that are filmed.
Importantly, the Stoodio prints characters and parts in EnvisionTEC's Pro Gray resin, which delivers prints that are highly accurate, functional and durable. Pro Gray, which was previously known as R5 Gray, has been one of EnvisionTEC's most popular materials since it launched in 2005. (The New York City-based 3D printing service Shapeways also offers 3D printing services on EnvisionTEC's Perfactory model line with the Pro R5 Gray material.)
"Sometimes we do characters with things like really fine crow feet around the eyes or hair detail and scales, things like that," Chong explained. "R5 Gray has served our purposes for both getting that really beautiful amount of detail but then also lasting throughout the stop-motion automation process."
The printer also has to be easy to use and reliable, so filming doesn't have to slow down on a major production. "The Perfactory printer has been great due to its ease of use, and it's also extremely consistent results," Chong said. "To be able to print all of their accessories, we are running the printer twice a day every day."
3D printing is a tool that helps storytellers and artists execute and share their vision quickly.
"By utilizing 3D printing, we're able to tell a story about superheroes, and love and conflict and action and adventure," Chong said. "There is no feel like the feel of stop-motion if you want to create something from your head – and, it doesn't exist, and it can't exist — You animate it. … Once you see the characters come to life, there's nothing else like that."