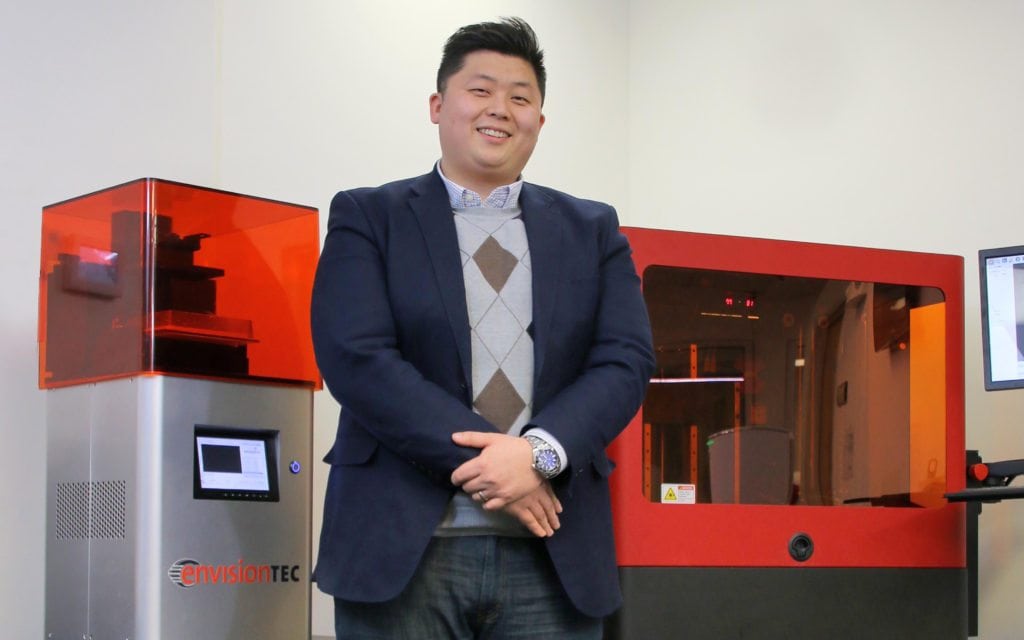 Dentcore is a premium CAD/CAM dental laboratory and supply company based in Manassas, Virginia. Its sister company, Rejuveneer, also creates quick digital smiles using a 2D camera, EnvisionTEC 3D printers and E-Dent 400.
Paul Kim, President of Dentcore, said the company used other 3D printer brands and shopped around extensively before ultimately deciding on EnvisionTEC.
"Dental equipment needs to be very very accurate," Paul Kim said. "So when you're thinking about doing temporary crowns, dentures, night guards, you have to have a very accurate 3D printer."
Today, Dentcore uses a Vida desktop printer to print a variety of materials and a Vector HD 3SP model for volume production of models.
"I think EnvisionTEC model printing is the best in the market," Paul Kim said.
And the Vida offers incredible flexibility. "With the EnvisionTEC Vida, you can actually print anything you imagine really," Paul Kim said. "You can print models, copings and metal frame up partials, night guards, implant surgical guides, temporary crowns, wax crowns and even dentures."
Sam Choi, a Key Accounts Manager at Dentcore, added: "We've used a few other leading brand 3D printers in the past, but none of them have had the material delivery and applicability that EnvisionTEC had with their FDA-approved materials."
The company's skill in using 3D printers led them to develop Rejuveneer, an innovative solution using a 2D camera, EnvisionTEC 3D printers and E-Dent 400 to create a snap in set of restorations.
"The patient can emotionally feel the difference before we even start," with the full restoration, Paul Kim said.
Mike Kim, US Marketing Director for EnvisionTEC, said Dentcore is committed to EnvisionTEC because it's committed to remaining on the cutting-edge of dentistry. "Digital dentistry is a rapidly evolving field, and the ideal 3D printing company must have an outstanding R&D team that will never stop pursing the next innovation," he said.
"3D Printing works well in dentistry because with 3D printing you don't have any limitations."
— Paul Kim, President of Dentcore