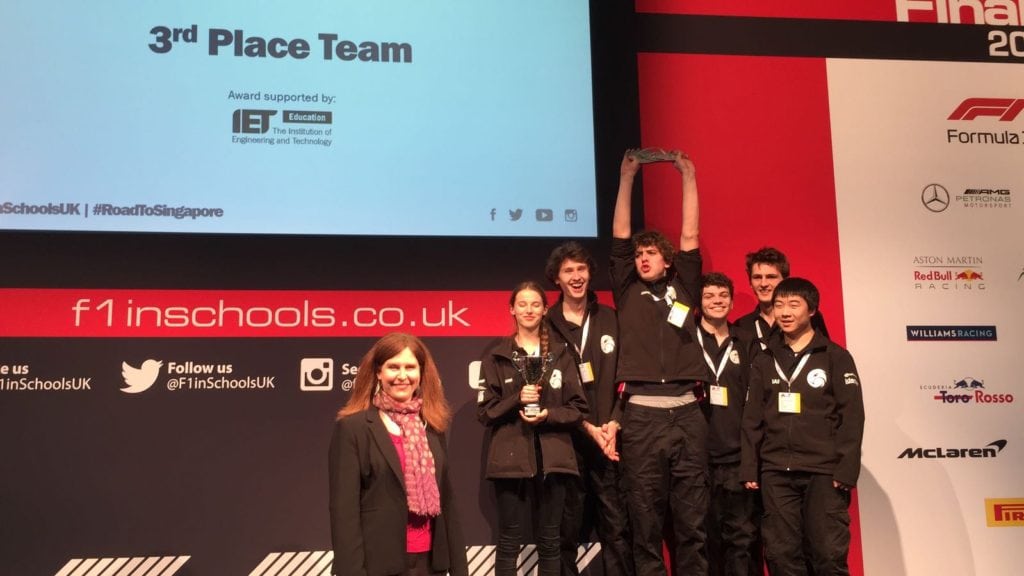 Congratulations to the EnvisionTEC sponsored F1 in Schools team Hawk Racing, who after a hard fought competition against 41 other teams came third overall in the UK.
The F1 in Schools UK national finals were held at the home of British motorsport, Silverstone racing circuit. It brought together the top 42 teams from around the UK that had won through from the ten regional final events.
The teams had taken up the challenge to design, build, test and race a miniature F1 car, with the last two days being spent having their entries judged in a number of categories including: scrutineering, engineering, verbal presentation, pit display and enterprise portfolio. As well as the car's speed being tested on the official F1 in Schools track, a 20 metre long drag strip, which the cars cover in just over a second.
Team Hawk consists of 6 students aged between 17 and 18 from Colyton Grammar School in East Devon UK. All providing vital roles in the team from engineering to marketing. EnvisionTEC have supported them with both sponsorship for the 2018 season, engineering support and printing various miniature parts for the car. The implementation of 3D printing proving to be perfect for these tiny but highly accurate engineering parts.
Anthony Ford from Team Hawk said: "I'm so glad we approached EnvisionTEC. Thank you to all your team for their support in both the engineering and production of parts for our car. Without EnvisionTEC's support and technical know-how we wouldn't have achieved this."
Huge congratulations to Elaine, Alex, Anthony, Charlie, Ian and Jake! For all your hard work. Hawk Racing will now have the chance to join the other teams in Singapore for the World Finals.
About F1 in Schools
F1 in Schools is an international STEM (science, technology, engineering, mathematics) competition for school children (aged 11–16), in which groups of 3–6 students have to design and manufacture a miniature "car" out of the official F1 Model Block using CAD/CAM design tools. The cars are powered by CO2 cartridges and are attached to a track by a nylon wire. They are timed from the moment they are launched to when they pass the finish line by a computer. The competition currently operates in over 40 different countries after beginning life in the UK back in 1999.
For more information on EnvisionTEC's solutions for the manufacturing and engineering/automotive please visit our dedicated pages.