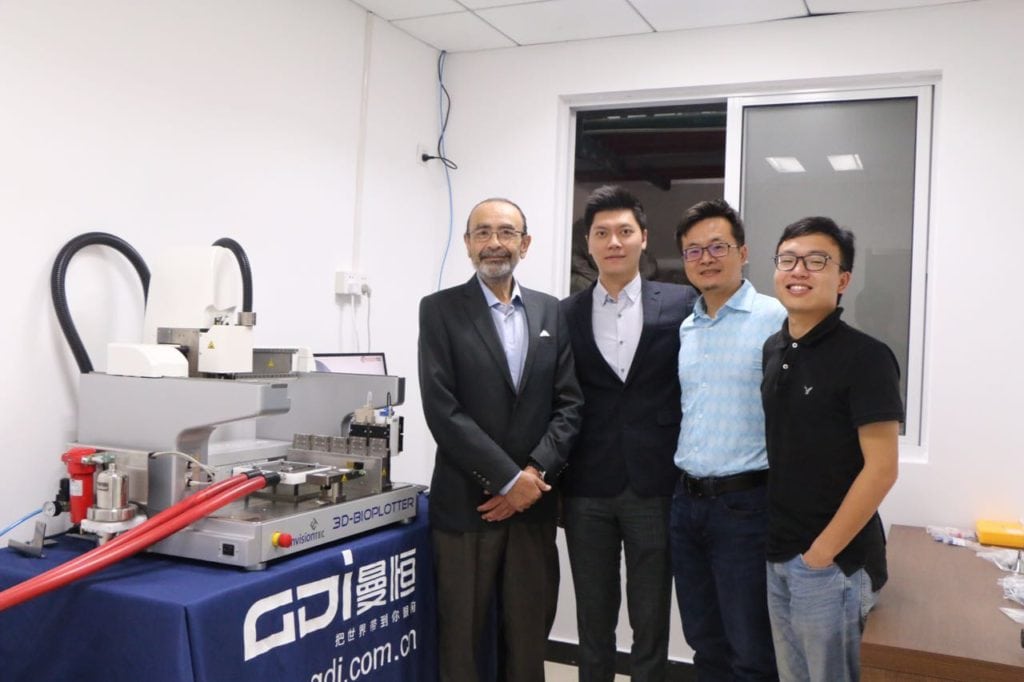 GLADBECK, Germany, Sept. 28, 2017 – EnvisionTEC GmbH today announced it has signed a formal agreement with Shanghai Graphic Digital Information Co., Ltd. (GDI) to become its official master distributor for the 3D-Bioplotter in China. GDI will be responsible for the market promotion, channel building and technical support of the 3D-Bioplotter across the region.
As part of the deal GDI has set up a biological 3D printing center within its Shanghai headquarters to demonstrate machines and provide proofing services promoting the 3D-Bioplotter products to both end customers and distributors within China.
EnvisionTEC's 3D-Bioplotter provides a set of rapid bio-fabrication tools. Capable of producing 3D scaffolds with precise internal and external structures for the purpose of tissue engineering and drug release, as well as biomaterials and cell adhesion with controlled mechanical properties. The range of print materials is comprehensive, including flexible polymers, gels, cells, hard ceramics and metals.
"GDI is a leader in the domestic 3D industry in China, our partnership with EnvisionTEC GmbH expands our reach into the biotechnology market providing us with arguably the benchmark technology for the industry," said Mr. Lee Chuankuo, Vice President of GDI.
"Our partnership with GDI demonstrates EnvisionTEC's commitment to its Chinese customers. We are looking forward to working with GDI to provide Bio-plotter technology into the market and provide support to ensure that Chinese biotechnology businesses get to see and experience the Bioplotter technology first hand," said Mr. Sobhi Aris, the Managing Director of EnvisionTEC GmbH.
About EnvisionTEC
EnvisionTEC is a leading global provider of professional-grade 3D printing solutions. Founded in 2002 with its pioneering commercial DLP printing technology, EnvisionTEC now sells more than 40 printer configurations based on six distinct technologies that build objects from digital design files. The company's premium 3D printers serve a variety of medical, professional and industrial markets, and are valued for precision, surface quality, functionality and speed.
About GDI
GDI was founded in 2007 and ten years on it has grown to become an innovative high-tech enterprise based on 3D technology. GDI's focus in on the 3D printing equipment and 3D printing services for different universities and research institutions. GDI have a professional team to promote the products and serve the customers. The company is located in Shanghai and possess 9 branches across China.