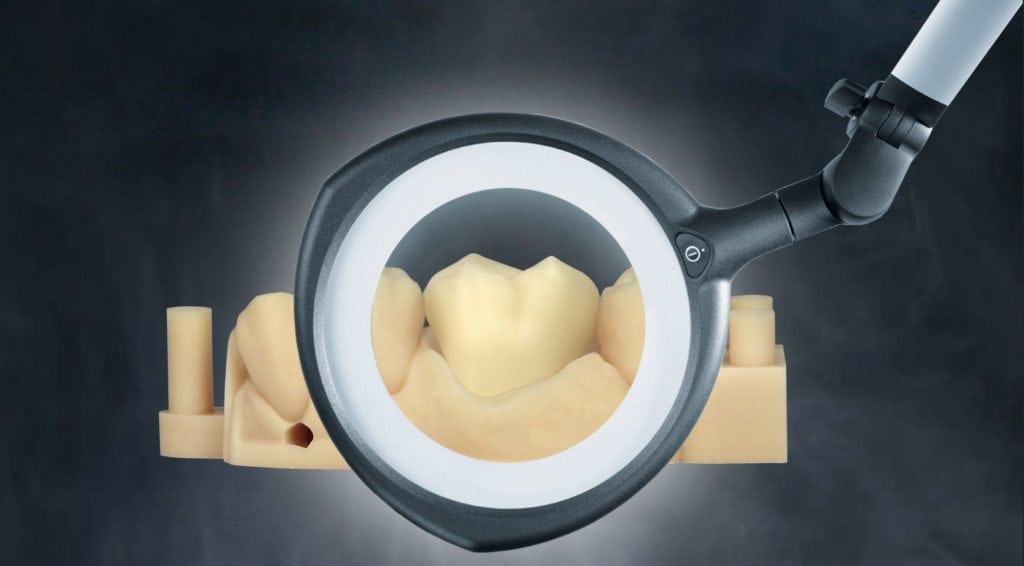 Unravel the mystery of 3D printer accuracy.
Who sells the most accurate 3D printers? Are accuracy and resolution the same thing? What does resolution mean in 3D printing? Is there a relationship between accuracy and resolution? Where does tolerance fit in? When considering final dimensional part accuracy, what matters most: X, Y or Z?
Yes, there is certainly a lot of confusion about accuracy in 3D printing and, unfortunately, a lot of potential customers are deliberately spun in circles on the issue.
As a 3D printer manufacturer since 2002 ― known for delivering best-in-class accuracy and surface finish, especially when it comes to tight-fitting crowns ― EnvisionTEC believes in giving customers the facts so they can make informed decisions. That is especially true when it comes to critical parts that go in the body or a critical product, such as a car or airplane.
So, let's un-spin the issue.
No, they are not the same thing.
Accuracy is, very simply, how closely a final 3D printed part measures up to its digital model. Usually, dimensional accuracy is measured within a certain XY tolerance — say, +/- 42 µm — or it's reported as a total percentage of scan accuracy against the model.
The only way to determine the accuracy that a particular 3D printer delivers for a certain 3D printed part is to print the part, scan it and compare the scan to the original digital model.
In fact, it's very difficult to say with absolute certainty that any given 3D printer model delivers a certain final accuracy, because, as you will learn in this paper, accuracy can be affected by so many factors, including user decisions such as print orientation of the part, the color of the print materials and more.

Resolution, meanwhile, is the fixed number of pixels displayed by a projector when 3D printing using Digital Light Processing (DLP).
For example, EnvisionTEC currently offers the highest definition projector used in DLP printing today, a 1920 x 1200 resolution projector offered in our Perfactory 4 Standard XL LED.
This projector delivers a total of 2.304 million pixels (which is determined by multiplying the number of pixels in X and Y) within the industry's largest DLP build envelope of 7.6 x 4.7 x 9.06 in (192 x 120 x 230 mm).
Each pixel in this configuration has a native or actual size in XY of 0.0039" (100 µm). This is determined by dividing the X or Y value of the build area by the corresponding number of pixels delivered X or Y. So, the native pixel size for X in this instance is determined by dividing 192 mm by 1920 pixels.
It's also important to note here: while the number of pixels is fixed, their size and shape is not. For example, if the same projector size is used with a smaller build area, the native pixel size becomes smaller ― just as a flashlight beam aimed a wall becomes more tightly focused the closer it gets to the wall.
Consider: the Perfactory 4 Standard also uses a 1920 x 1200 resolution projector but with a smaller build area of 6.3 x 3.9 x 9.06 in (160 x 100 x 230 mm). This results in a finer native XY pixel size of 0.0033" (83 µm).
What's more, not all pixels are square. Some projectors used in 3D printing actually deliver diamond-shaped pixels, which means they have a different size in X and Y.
While it seems like more pixels, and finer pixels, would deliver better accuracy, that's not always the case, as you will learn below.
Relationship Status: It's Complicated
When it comes to the relationship between accuracy and resolution, it's more complicated than the numbers would suggest.
For starters, not all projectors deliver the same high-quality image, even when they deliver the exact same number and size of pixels.
Take a swing through any electronics store to examine TVs or monitors, and you will see that that quality can vary greatly even when the projector resolution and display size is the same.
One way to see the quality of the resolution on a 3D printer is to actually look at it, if you can, just as you would when shopping for a TV.
In the case of a 3D printer, lay down a black sheet of paper in the build area to see how crisply the projector delivers an image in white and grays. Look at how the projected image looks across the entire build area, too, because some projectors deliver great resolution in the centermost portion of the build area but not along the far edges.
For the best quality and accuracy, you're looking for a very crisp edge across the entire build area.
But, again, the quality of the projector isn't the only factor to consider when on the hunt for an accurate 3D printer.
Beyond the projector itself, other mechanical design and components of a system can also have a profound impact. So do print orientation, resin color and software. What's more, most 3D printer users misunderstand the role of Z layer resolution on final dimensional accuracy, as Ortho Cosmos found when it cross-tested 3D printer accuracy:
Read More ― Download The Entire White Paper