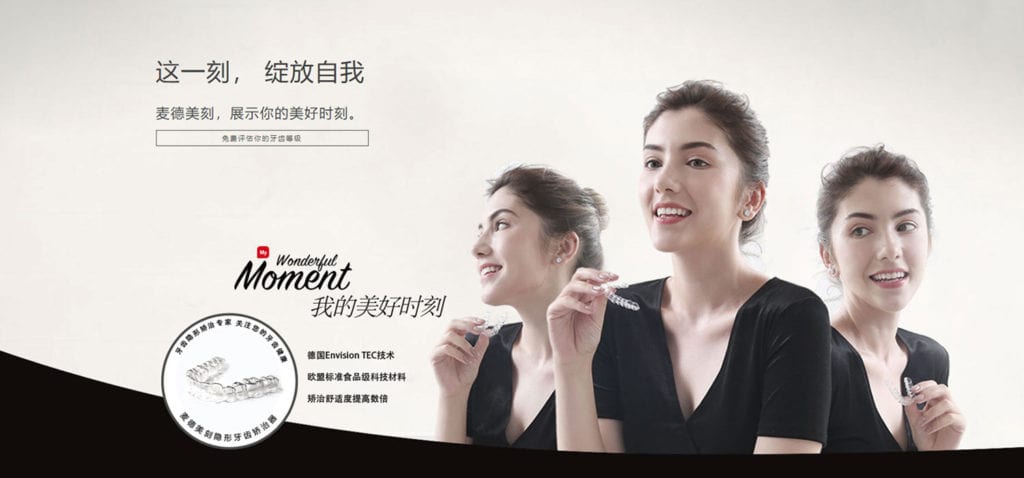 HanYang Technologies has today announced that its range of aligners marketed under the MYDEMAK brand have been granted CFDA (China Customized Medical Device Certification Approval).
MYDEMAK is positioned as a high precision, tight fitting, highly transparent product. This is achieved through a perfectly matched EnvisionTEC 3D printer and material combination.
Even before the certification, the MYDEMK brand already received great recognition from numerous dentists and patients. HangYang also secured cooperation with a number of Chinese oral clinics, oral hospitals and an Internet oral platform. Their market covers north China with about 70,000 cooperative doctors and 60,000 cooperative clinics. Among them, the high-end oral chain organization ShengBei has reached a cooperation with MYDEMAK, which currently radiates to 6 cities including Beijing, Chengdu and Guangzhou, it has 8 hospitals, with 600 cases requiring invisible orthodontic appliances in 2018.
The design team of MYDEMAK has been engaged in the field since 2013, accumulating thousands of cases. The team is composed of professional orthodontists, dental designers, mechanical analysts, dental technicians and other engineers, with the design capacity of 1000 cases per month.
The approval opens up the product and the offerings of the businesses to an even wider audience across China and the world.
The team at HanYang are currently using two EnvisionTEC Vector 3SP models to produce 200-300 cases quarterly. The team are already aware of the growing demand and plan to invest further in EnvisionTEC machines and materials to both defend its market position and increase production capacity.
For more information on MYDEMAK contact Hanyang here.
For more information on EnvisionTEC solutions for the dental market visit our pages here.
To read a case study on HanYang and how it uses EnvisionTEC 3D printers visit here.