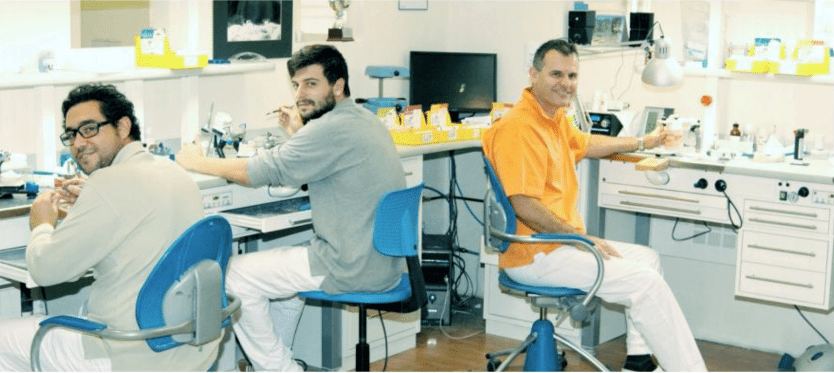 D-Entity Designs Smiles in Italy, With EnvisionTEC 3D Printers
D-Entity is a 50-year-old, full-service dental and orthodontic laboratory that has embraced technology change as a means to deliver affordable and quality care to patients.
It has two facilities in Italy, in Modena and Rimini, and co-owner Roberto Acorsi says the company has embraced all things digital.
"We deeply believe that technological development and research of innovative materials help make our product more powerful and therefore obtain a higher possibility of expanding into the market," he said. "Every single step of our work is computerized from the receiving of a commission to the final invoice."
In 2015, D-Entity purchased an EnvisionTEC Ultra 3SP Ortho printer for the production of orthodontic parts. Accorsi said the Ultra was chosen for several reasons:
Productivity: The company can print up to 35 models per build plate, and notes that it does so regularly, producing about 70 per day. "The system is perfect for us because today we can now produce more than 20,000 dental models a year," he said.
Quality: The surface quality of the EnvisionTEC printers was superior to those offered by competitors. Because the surface finish of the model is so excellent, he noted, "We can produce a very clear aligner without any distortion in the model during vacuum forming under heat."
Management costs: The EnvisionTEC printer cost about 30% as much as competing systems that it examined and the company has found it very reliable, adding to its value. Accorsi also likes the fact that the material for supports is the same as for the build project, making the system easy to use.
"The main problem that we used to have with the other printers was the low quality of the model, where visible layers could be seen, and the ability to jump from one job to another quickly," he said.

Because other printers delivered models with visible stair-stepping, the aligners were opaque and gave some patients discomfort.

"We are very pleased with our Ultra 3SP Ortho," Accorsi said. "It allows us to be more productivity and deliver a high level of quality. It also allows us to accept more work from new clients."