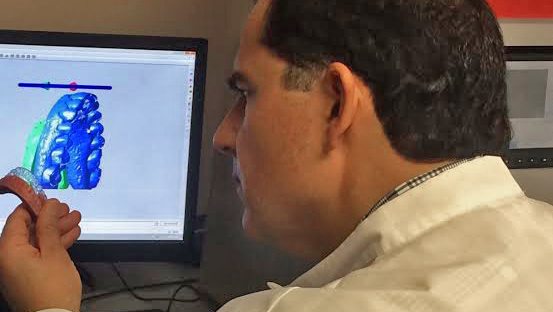 Rhode Island Orthodontist Carefully Chose 3D Printer for Digital Practice
Before he got into 3D printing, Dr. Cosmo Haralambidis — known as Dr. Cosmo — researched the machines for about two years.
In his 17-plus years in practice, Dr. Cosmo has always run a progressive, high-tech, full-service orthodontics practice for adults and children. For example, he was the first orthodontist in Rhode Island to get on board with cone-beam 3D imaging in the mid-2000s.
"It's definitely what I would consider one of the 3-4 main dramatic changes in dentistry today," he said of digital impressions, "improving the detail and accuracy of fit, important to our planning and creating an accurate bite."
A graduate of the University of Pennsylvania School of Dental Medicine and Boston University Medical Center's Department of Orthodontics, Dr. Cosmo's experience with early technologies also taught him to be cautious, leading him to research the machines and their support services carefully.
Dr. Cosmo was even involved in early research with Stratasys and Bego of some dental appliances. But it wasn't until EnvisionTEC came out with its Perfactory Vida 3D printer for the dental industry in early 2015 that he thought it was the right time and machine.
"That's when function and cost intersected," Dr. Cosmo said, noting the number of models he could build on the affordable machine, and the different materials that could be printed.
Before the Vida, he said, the industry "was just not there yet" in terms of value for cost.
In the fall of 2015, Dr. Cosmo's existing lab, which already had experience making models and building appliances, took delivery of two Perfactory Vida 3D printers.
Dr. Cosmo expected there to be a long transition time getting used to the technology, and so his office created a parallel work flow to ensure time to adjust slowly.
"We kind of know there is suffering for the first 3-5 months" with new technology, he said.
But Dr. Cosmo said the installer was excellent and the setup went very smoothly. "We were able to utilize it within the first week," he said. "It was ahead of what expected."
Today, the lab runs a morning and afternoon print on the machines, and uses two primary materials, Ortho Tough and E-Appliance, and it's been testing a new EnvisionTEC material called E-Guard for bite splints and night guards. His office regularly 3D prints dental models, model set ups and tooth movement models for thermoforming.
"You have to have a workhorse unit," he said. "So far, so good—and were beating on it."
Dr. Cosmo said the 3D printing capability rounded out his digital practice and has changed it in dramatic ways. Those in the dental field are already aware of how much patients prefer digital impressions over the gooey kind that make patients, especially kids, gag and vomit.
But the clinical staff prefers it too because a more efficient use of their time, and he prefers it, too, because he now has more control over how he's managing the movement of teeth in his patient's mouth — and it's more affordable overall.
"It's putting more tools into the orthodontist's hands," Dr. Cosmo said. "We can create a setup and we can talk about it, spacing, we can do minor tooth and avoid" large manufacturers of appliances.

"It changes the practice dramatically because you have a faster turnover time and you have more freedom of movement versus working with an intermediary," he said.
When patients get tired of traditional braces close to the end of their treatment, he can also offer them an option of an affordable aligner that his office can quickly manufacture. And if a patient loses a retainer, they can just use a model, which they retain for two years, to quickly make another.
But the best thing about EnvisionTEC, Dr. Cosmo said, is the confidence he has in the support team.
"You have to have someone there. We cannot afford to be down," he said. When he's had issues — and he expects to have a few with any technology — "the question is how fast can you get it back up and running."
With EnvisionTEC, he said, "the experience has been above average."
Dr. Cosmo Haralambidis received his education at the University Of Pennsylvania School Of Dental Medicine and Boston University Medical Center's Department of Orthodontics. He remains highly active in continuing education in order to offer his patients the most current technology in his field. Dr. Cosmo has served on the faculty at Boston University Department of Orthodontics from 2000-2005, and continues to perform clinical research with residents from Tufts University to create new techniques and products that advance orthodontic treatment. He has attained Diplomate status with the American Board of Orthodontics — the highest level of achievement and level of quality for his patients. Read more about Dr. Cosmo here.