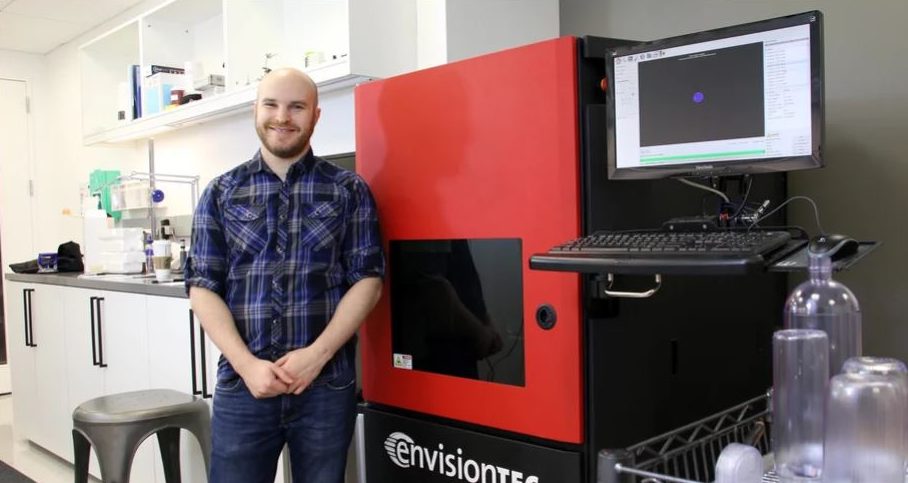 Berlin Packaging's Studio 111 Designs the Future with EnvisionTEC 3D Printers
Berlin Packaging is a progressive hybrid packaging company, with an innovative Studio 111 design center in downtown Chicago. "We use 3D printing to develop amazing visual models," explained Martin Rathgeber, Director of Engineering.
Specifically, the company uses two 3D printer models from EnvisionTEC, an Xtreme 3SP and Perfactory XXL.
The global packaging leader uses the two machines for quick turnover of design concepts for customers in a wide range of industries, from soaps to alcoholic beverages and more.
"It's nice to be able to meet multiple deadlines in one build," said Nora Flood, a Senior Industrial Designer.
Tien Nguyen, Senior Industrial Designer, added that having a reliable technology that can be run to its limits helps with production of concepts. "We print essentially 6-7 days a week," he said. "To be able to crank out parts consistently day after day is great."
The way the models look isn't the only consideration either. "Being an engineer, I really like the accuracy of this printer. You're able to test with a high level of confidence and precision, which lets you validate better."
What's more, that accuracy is achieved with a large build area that allows for 12-13″ high bottles. "The reason we picked the Xtreme 3SP is the build envelope. We're able to build multiple bottles at the same time."
"We're always looking for the latest tools to develop extraordinary packaging," Rathgeber said. A clear model in EnvisionTEC's E-Glass "looks so much more exciting."
#PrintYourPotential
#15YearsBetter
#3DPrinting
#AdvancedManufacturing
#PackagingTechnology
To see more Case Studies, Stories and News around the EnvisionTEC range for Manufacturing, follow us on Facebook, Twitter or Linkedin. Watch our latest videos on Vimeo and YouTube.