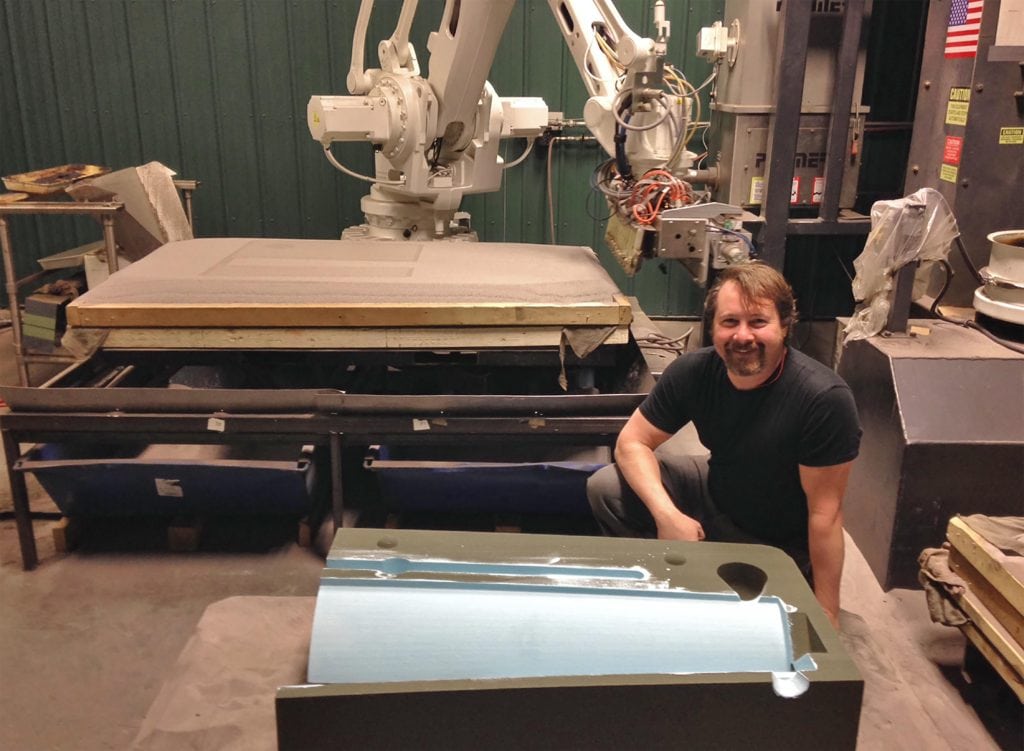 Robotic 3D Printer Transforming the Foundry Business
Breaking the Sand Casting Mold with Additive Manufacturing
When your foundry fills a city block and your production equipment and patterns fill the foundry, how do you grow? For Trident Alloys (Springfield, MA) the answer was a Viridis3D Robotic Additive Manufacturing (RAM) system, to 3D print sand molds and cores.
Quick Castings
Trident has long specialized in moderate- to low-volume sand castings, which traditionally require a three-dimensional pattern in order to build the mold. That process typically takes a matter of weeks, no matter how quickly the experienced team at Trident could pour metal and finish the piece. But a Viridis3D RAM system combines a robotic arm with a unique print head to deposit sand and a binder jetting fluid — to build complex molds within a few hours. No pattern required.
So as Jim Galaska, Trident's president, explained, "We can easily turn a job around quickly with the Viridis machine, versus four to six weeks just to get the tooling to go into production using traditional methods. We're always going after the newest, greatest technology and we realized Viridis3D would give us another edge."
Galaska was so eager to stay on top that he volunteered Trident as the Viridis3D beta site, helping perfect the technology over the last three years.
So after numerous product improvements and years of experience, Trident and their Viridis3D RAM 236 (a number that denotes a 2 x 3 x 6 foot build envelope) are now conquering new markets together. Today, the Viridis3D RAM also comes in three additional sizes, a RAM123 (1' x 2' x 3'), a RAM 224 (2' x 2' x 4'), and a RAM 336 (3' x 3' x 6'). Viridis3D can also develop custom solutions with this scalable solution.
RAM Opens Up New Markets
"It wasn't so much faster turn-around that got us into this technology," said Galaska, "but the ability to get into the prototype market, spare parts work, and work that doesn't have pattern equipment. We've always done prototype work and one-off jobs. But by eliminating the need for standard tooling, the Viridis gives us a much faster turn-around. It also gives us a price advantage. Together that has attracted entirely new customers."
For example, Galaska points to an instance in which a customer needed an impeller blade that was 10% smaller than the one he had. "We were able to quickly scan that pattern, decrease the part size by 10% in the 3D software we used to program the mold, and then print the mold and pour a casting." Duplicating that pattern in the new size would have cost them $5,000 to $6,000, easily.
"I'm also trying to take the skill out of making a pattern with this approach. We have one pattern maker here and pattern shops are becoming few and far between," Galaska said. "We can scan a part or a pattern, program a mold and run it profitably on the Viridis, yet offer three- to four-week delivery. If we needed to build or repair a pattern we'd have to quote ten to twelve weeks. So customers see the advantage."
Galaska has been promoting the idea of producing prototype castings on the Viridis3D for both new and existing customers, like John Deere and DuPont. Galaska said customers not only get their parts faster, but the parts cost less if you factor in the cost of the initial tooling. And with prototypes, there's always a risk that the design has to change before the part goes into production. Using traditional methods magnifies the expense in time and money that come with such design iterations.
"With the Viridis machine we can just make the change on the computer and produce another mold," said Galaska.
This also underlines another key point in Galaska's strategy: "The Viridis helps feed my foundry. Because a lot of jobs that start as a prototype eventually go to hard tooling and become production jobs in the foundry. In short, the Viridis has made it possible to increase our sales without having to increase capital equipment."
Better castings
The quality of the parts being produced with Viridis molds is "far superior" to what the foundry can produce with traditional tooling, Galaska added.
"That's because everything is modeled in our solidification program (SolidCast), and we're able to incorporate gating systems that can't be done conventionally. That makes for better molds," Galaska explained. "For example, with Viridis we can run a casting at any angle we want. We can run it at 45 degrees or whatever we like. We can also program the gating to run underneath the casting and come up to optimize the flow of the molten metal in a way that would be very tough to do in a conventional casting."
In fact, the Viridis3D can print molds, cores, and patterns and all the associated gating with almost limitless complexity. "It can also print multiple layers, so we can produce two or three different molds at the same time," Galaska added. "For example, one of our customers traditionally ran the castings for their pump impellers horizontally. We print the molds on the Viridis to run them vertically and we can mix and match, say combining a nine-inch impeller with a seven-inch impeller. It would be very difficult to incorporate the gating systems and positioning we use to do this with traditional methods."
The Viridis3D RAM system has also broadened Trident's reach beyond the alloys it pours inhouse, which includes all the common steel allows, Inconel and Hastalloy.
"It's broadened our market," Galaska said. "Whereas before if a customer asked for an aluminum casting or a bronze casting, we'd send him to a bronze or aluminum foundry. Now we print the mold and bring it to the foundry ourselves, they'll pour it, and we'll bring it back and finish it. So it broadens our market into different metals."
Digitizing inventory
Another bane to the "old way" of doing things is the giant collection of tooling that builds up in a foundry like Trident. "So we're talking with our customers about digitizing the patterns that haven't run in seven to ten years," said Galaska. "It might not run for another seven to ten but it's taking up storage space. And often when you bring an old pattern out it may need repair or the gating systems changed because it hasn't been used in a while. That adds time and expense to repeating an old job."
The smarter approach is to scan the existing patterns and store them in a database. If it's ever needed again the file can be retrieved and a mold programmed and printed on the Viridis3D.
EnvisionTEC is the exclusive strategic partner to Viridis3D.
CAPTION: Gov Coleman, above, of Metalurges (Conway, Mass.) hand coats a mold for one of 13 large and detailed torchieres for a Manhattan building that were to be cast in bronze, weighing 450 pounds a piece. "I specialize in high-end architectural pieces that other shops won't take on," Goleman explained, which is why he turned to the Robotic 3D printer at Trident Alloys to produce his unique pieces. "I tend to have clients with very exacting standards. It may take longer for my shop to turn out a piece, but that's because I am so meticulous, and everything is hand finished."
Trident Customers Benefitting from 3D Technology